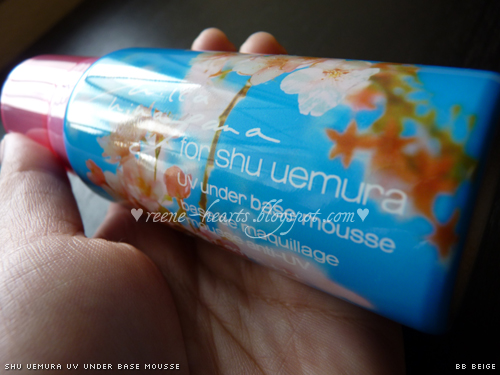 updated: 6/05/11
I didn't really get a chance to play with shu uemura products before they pulled out of US department stores. So I can't say that I'm really familiar with the brand outside of their very popular eyelash curler. The Sakura Collection by Mika Minagawa for shu uemura came out this spring, and I was immediately intrigued by the BB Beige UV Under Base Mousse. Normally, the shu uemura Under Base UV Mousse is meant to be a primer. Shades Beige and Pink are permanent, while BB Beige is limited edition. I have not tried the others so I cannot compare, but according to other bloggers, BB Beige is different in that it can be worn on its own like a BB cream.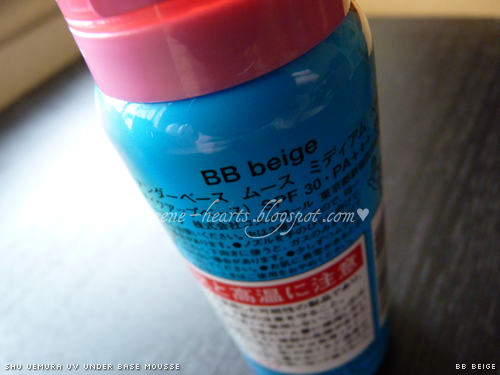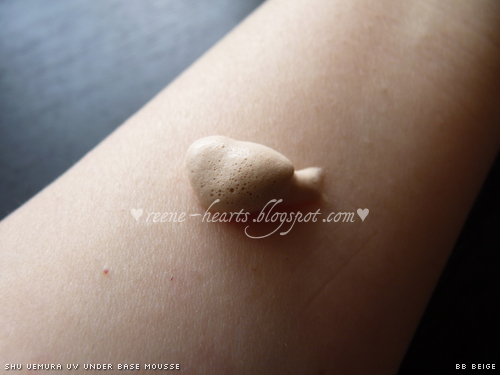 This is not like any BB cream I've ever seen or tried. The product is packaged and dispensed almost like a hair mousse. You have to shake it up (something will sound like it's rattling around inside), and it comes out as a light, fine foam. I just pat this gently all over my face with my fingers, blending as I go. A little goes a long way so be careful not to dispense too much. I feel like you gotta work fast to blend it in the skin cause it seems to dry down quickly to a matte finish. It gives light coverage although I guess you can layer it (I don't like to do this with base makeup though). It smooths and evens out my skin nicely, but it will not cover things like blemishes so you may need additional concealer for that. I have tried this with and without setting powder. I don't feel like there is a huge difference with or without?? I have to blot after about 4-5 hours either way, which is pretty typical for me, but I find that this breaks down the slightest bit towards the end of my work day (depends on how dry or how hot the office is). I'm not sure I'd recommend BB Beige for anyone darker than NC25. I'm kind of in between NC15 and NC20 right now so it works for me. It doesn't oxidize on me, meaning it doesn't get darker or turn orange. It has SPF 30 PA+++, which is adequate for work days or days I don't plan to be out in the sun much.
I suppose the name makes it easy to want to associate it to BB creams, but I hesitate to call this product a BB cream. I don't think its coverage is comparable to the actual BB creams I've tried. It's not moisturizing for my combination skin, so I would have to make sure I moisturize well before I use this otherwise I get dry patches. I think it would be better if treated as a light foundation or maybe like its siblings, a primer.
If you're interested in this product, I don't know of any online store that carries it. It would be handy to have a connection in Asia to help you get it. Otherwise, there's always eBay. The cost should be around $45US. If you want it, I would advise trying to get it soon because it is limited edition. Otherwise, shu uemura is coming out with the Face Architect Sheer Refining Mousse Foundation. You can read more details about it
here @ the make-up blogette
. It's most likely a different formula, but it looks really similar to the UV Under Base.
Special thanks to
Jennifer
!