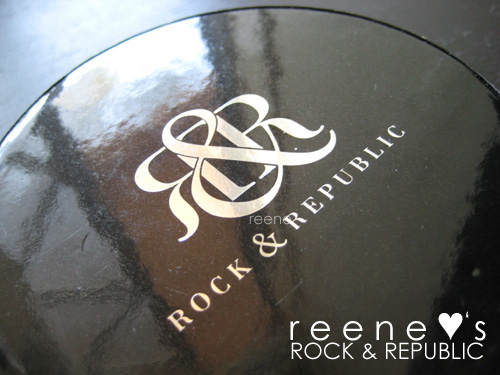 Sorry this post took me so long (warning lots of photos inc!). I know I got back from Vegas ages ago. I tend to be out on weekends instead of being cooped up in my house so it took me a while get all the photos done (limited sunlight for better pictures!). On an unrelated note OMG I have followers! ♥♥♥ I can't believe any one would follow me!! ♥♥♥
So some bad news.. Budget is tight after my Vegas trip (as it usually is). And by tight I mean that I am putting a self-imposed ban on spending unnecessarily for a while. Of course, there will be exceptions to the ban like MAC collection releases, limited edition items, crazy sale items,
LV handbags
.. ahem you know. Necessities of life. XD
The good news is that I bought a shit ton of stuff for the past few months that I have yet to use (which led me to the ban, but.. details). So that means I have blog material for a long time coming.. if no one minds that the items were probably reviewed to death already by other bloggers lol. I'd do a "hit pan" project, but let's be realistic here. I don't think I'll ever hit pan on anything because I switch around too often. Sigh this is probably also a good reason to not buy so many things, but I can hardly help it! They call out to me, "Buy meeeeeee!" Okay that's kind of creepy.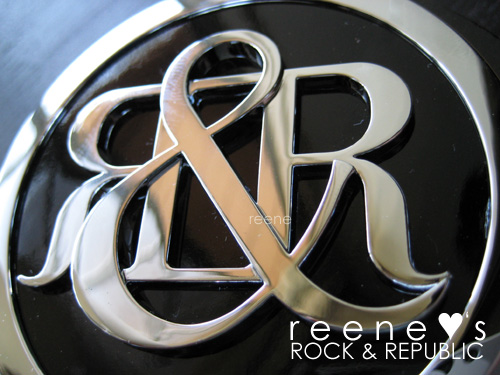 If you had read my last post, then you may remember that I mentioned clearing the stock of a small Rock & Republic cosmetics counter in the Elements gift shop in Aria. I noticed the counter on my previous trip earlier this year, but didn't purchase anything because I couldn't justify the price tag at the time. I kind of regret it because I missed out on a lot of things I just can't seem to find any more (namely Call Me Contrived Blush, which is always sold out everywhere I look). This time, I saw a sign stating all R&R cosmetics were 50% off, which sent me salivating. Mm sale.. An SA was kind enough to dig out all the R&R my heart desired (well, all the ones that were still available) while the BF went to try his luck at craps. Every single R&R item was already marked down, and the SA gave an additional 50%! I got $28 shadows at about $4.50 each. It feels like I went a bit overboard buying so much, but could you blame me?? Everything was so ridiculously cheap.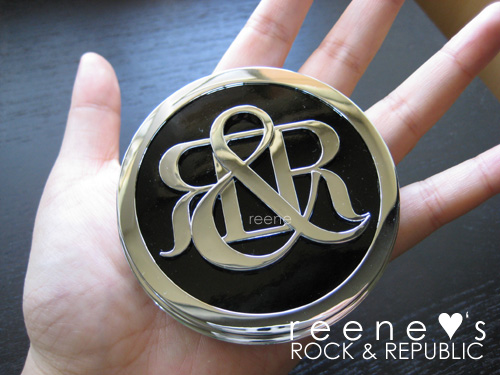 To give you an idea of how large an R&R blush or pressed powder compact is.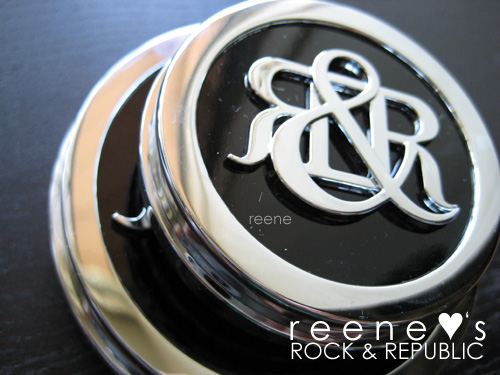 To give you a size comparison of an R&R eyeshadow vs blush.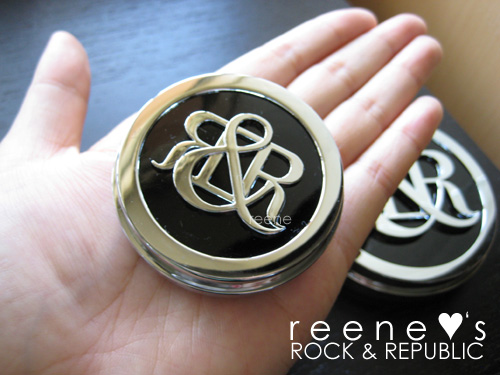 Size of an R&R eyeshadow.
R&R cosmetics' claim to fame seems to be their blushes (Contrived Blush). I heard about them from
Jen
a while back. I managed to get to a Nordstrom counter before R&R cosmetics got pulled. But being the genius that I was, I only bought Tease at the time (in my defense, it was $40!). I think Jen's recommendation made them super hot items lol. Nearly every blush color was close to being sold out at Aria when I got there. No surprise there, so I snagged most of what was left for about $10 each.. :3. Please excuse the quality of the pictures. Color accuracy is continuously an issue for me so please be aware that my camera tends to really wash out colors.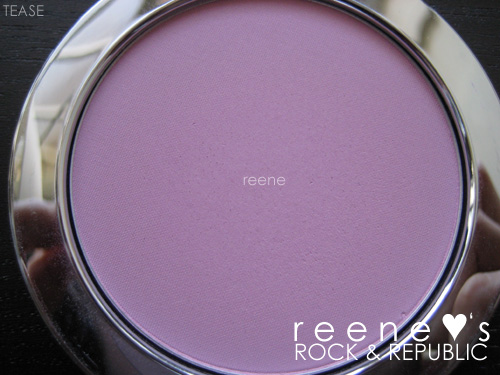 Tease is a very cool baby doll pink. It looks lavender in the picture, but trust me it's pink! The finish is matte.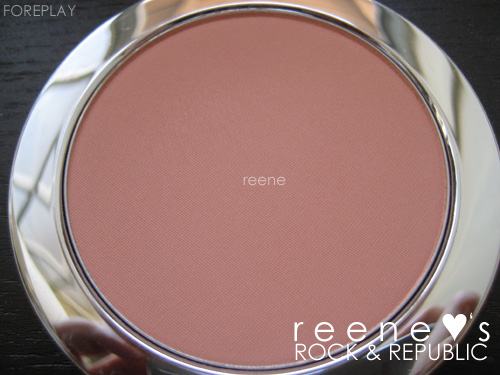 Foreplay is a matte peach.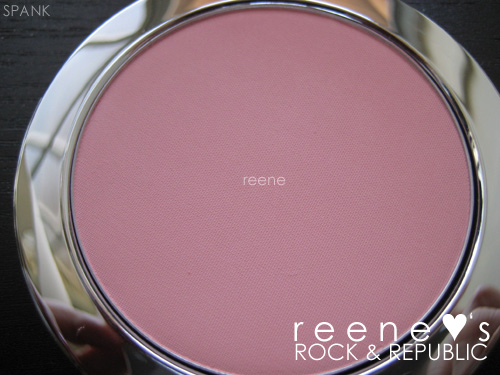 Spank is a matte neutral light pink.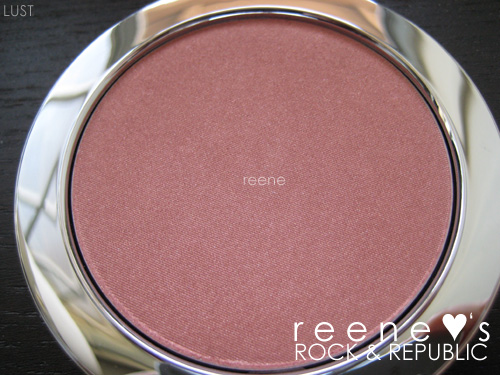 Lust is kind of a bronzed rose. It is a satin finish.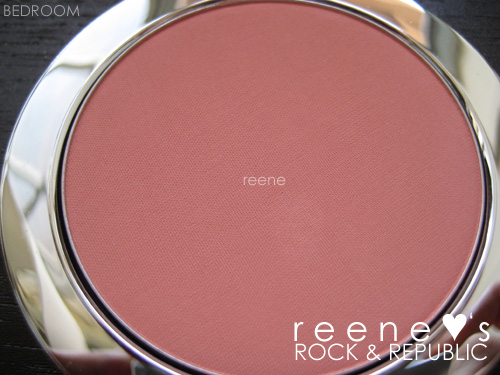 I think of Bedroom as being kind of a matte version of Lust.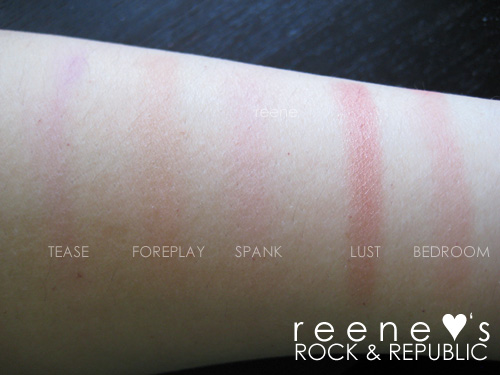 Sorry about the lightness of the swatches in the picture. I thought I swatched rather heavily, but I guess not. Oh and my arm is not really that pale lol. I might redo the swatches when I have some time with better light.
The counter still had one each of their pressed powders in the lighter shades. So I bought Chiffon and Silk. Not sure if you can tell in the pictures below, but Silk is a couple shades lighter than Chiffon. They look really similar don't they? I tried to swatch these for photos, but they both melted into my skin. I tried three swipes then gave up lol. Sorry the product pictures look a bit dark. I may retake these as well. The size of the pressed powders is the same as the blushes.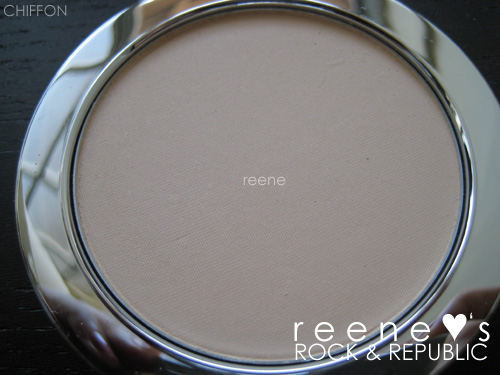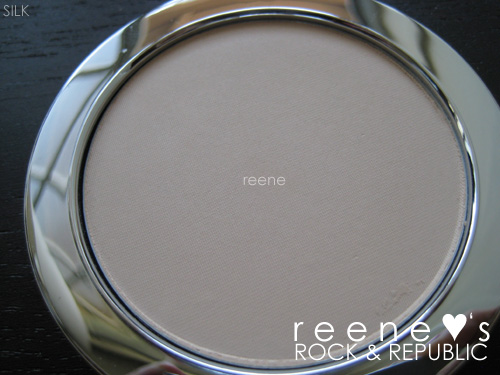 They only had these two brushes left. The rest were display items, and the SA didn't want to sell them to me saying because they were handled by customers, thus gross. (??) Thanks but.. I was going to wash them anyway? I was a little disappointed because I was looking for better eyeshadow brushes. I got a large powder brush and an angled #205 brush.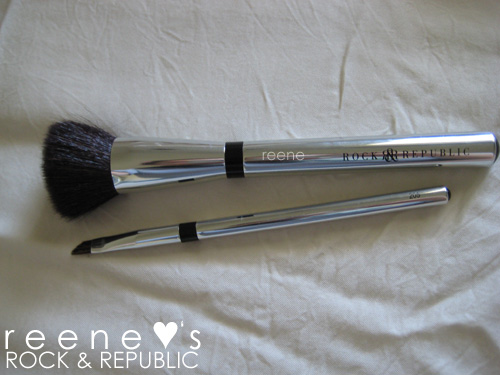 The bulk of my purchase was almost every single eyeshadow I could get my hands on LOL. Well, I passed on a few, but now I wish I just got them since they were so cheap. I love the colors although some of the ones I bought are outside my comfort zone, but I figure it's so cheap I could play around if I wanted to. These pictures really don't do them justice and I apologize for that. I redid the first two swatch photos since I had some time after work today. Still not that great, but much better than the original attempt. Argh I'm awful at swatching. -_-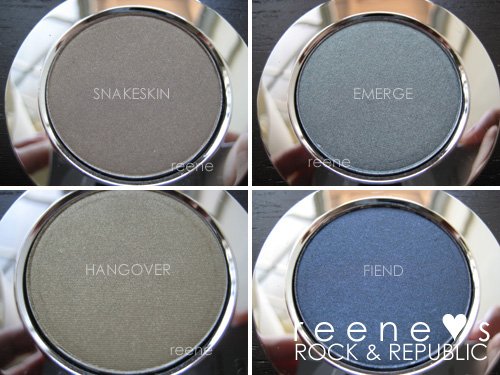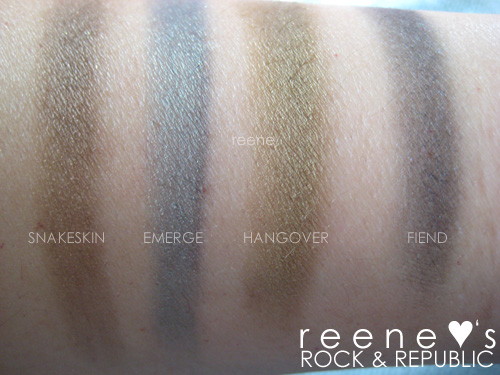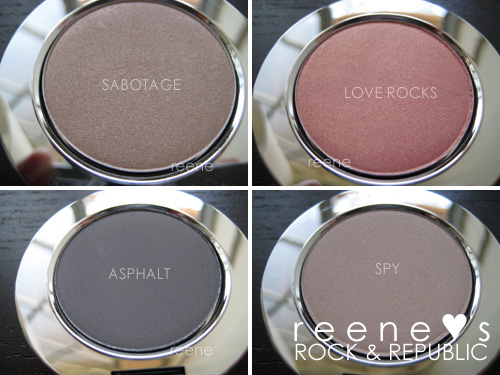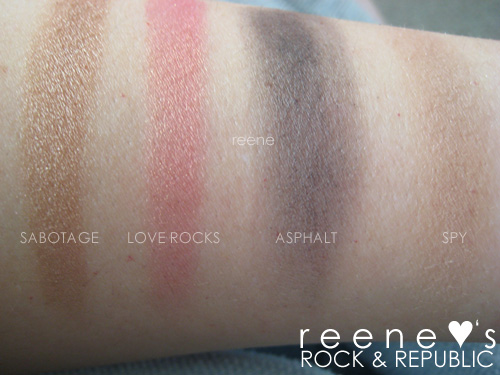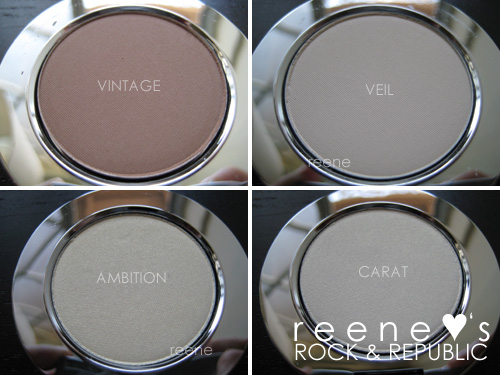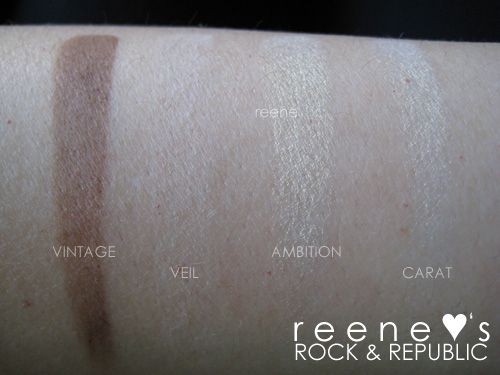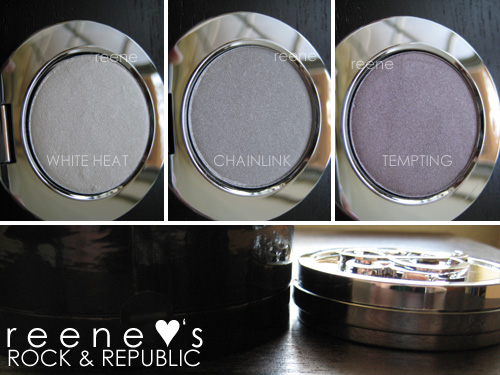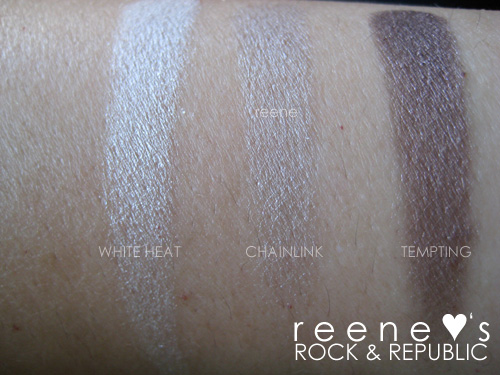 Wall of Text Observations
Blushes
The blushes are finely milled and thus very smooth, but are not overly soft. They last all day on my cheeks if I don't accidentally wipe it off. They are pigmented, but I usually wear these as a sheer wash. Lust seems to be the most pigmented out of the ones I bought. I would suggest treading gently with this one. My favorite color out of the ones I have is Tease, although Foreplay is in close second.
Brushes
I think the bristles are goat hair. I've since washed the large powder brush (forgot about the angled brush.. lol). It didn't shed, but it leaked color. I think it's supposed to be common for natural bristle brushes so it's not a big deal, but I thought I'd mention it. They're all right in terms of softness.
Eyeshadows
The shadows are very high quality. They are finely milled and soft. Great pigmentation and apply very smoothly. I think my favorite color in the bunch is Tempting. Tempting is a gorgeous purple-grey. I kind of want to call it a taupe, but I'm bad at identifying taupe lol. Snakeskin is also pretty (slight olive-tone brown). Overall, I liked all of the shadows I got with the exception of Veil, which is a matte beige/nude that was rather chalky for me. My eyelids tend to get oily, so I definitely need an eye shadow base. I used NARS Smudge Proof Eyeshadow Base, and the shadow lasted without creasing/fading for a good 8-9 hours.
Pressed Powders
Like everything else, the pressed powders are soft and finely milled. I apply a light layer with the R&R large powder brush to set my foundation. I have to blot by around noon (so after.. 4-5 hours after initial application), which isn't bad for me (with no products, my T-zone gets shiny in less than three hours.. with a terrible product, I get shiny within two hours). This powder doesn't really last until the absolute end of my day, but I think it performs fine given that I'm usually out of the house for 12+ hours on workdays. Silk and Chiffon are both pretty similar in the pan and on my face. Silk may be a slightly better match, but in general both apply nearly invisibly on my face.
General Packaging
Some may find the design of the compacts to be gaudy, but I very much like the look. I love how luxurious they feel. Admittedly, they are rather bulky for travel though. I found the cardboard containers they came in to be ridiculously huge (as you can see in the 2nd to last eyeshadow photos). I had to take everything out in order to fit them all in my luggage. I can't imagine being able to take more than one or two R&R anything with me on a trip and still have room for other products! Depotting them feels like a sin.. :x
Price
The full retail price sets these products in the high-end range. The blushes normally retail for $40 each. Pressed powders are $44 each. Single eyeshadows are $28 each. The face brush was $65! I think there is a bronzer (compact is encrusted in Swarovski crystals) for.. $225?? (cringe) You can purchase at the official
R&R
site. If you've missed out on the 50% off sale, sometimes discount sites like Hautelook and Gilt may have the R&R cosmetics too at even cheaper prices so I'd keep a look out on those as well. If you were hoping to get my crazy discount at Aria, it wouldn't hurt to try.. but I think the gift shop was trying to clear their inventory of R&R, so I'm guessing that their stuff is wiped out by now.
Recommendations
I would definitely recommend the blushes. If you can only get one R&R product, get a blush! I like the eyeshadows, but I would say that most of the colors are not unique enough to be worth the big price tag. However, if you can get them at deep discounts, it may be worthwhile to pick a few up. The pressed powders performed decently on me, but I wouldn't recommend them unless you can get it at discount price.
Phew that was a giant post. Hope someone finds something in it useful. And please pardon my typos/incoherent sentences. I'm beat. :P