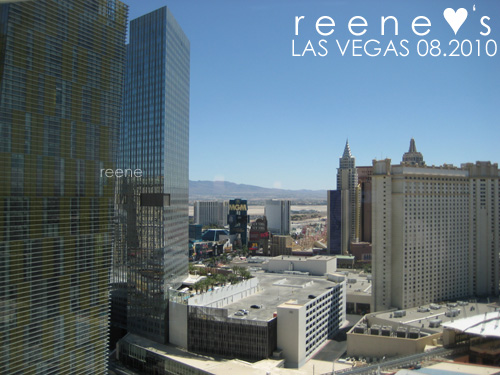 View from the hotel room. Sigh~ It's even prettier at night but the reflection from the glass prevents me from taking a decent picture haha.
Warning this is a massively long post with pictures (very little to do with makeup except the very end.. lol).
Most of the time when I go to Vegas, people ask me what do I do there. I don't gamble really (I'm a sore loser when it comes to $$$). The most I'd do is throw $20 into dollar slots and lose it in 3 minutes (I think that is some kind of record..). I'm not a heavy drinker. I left those days behind in college. Mainly because now I go straight to hangover if I pound just 3 drinks in a row. Not fun any more.. lol. I've never been into clubbing or dancing (swaying is most likely all you'll ever see me do). I'm rarely interested in shows because I'd rather spend my money shopping (unless there is a really good concert). So what do I do in Vegas?? Sleep/relax, shop 'til I drop, and stuff my face. Pretty boring, right? The relaxation part is very important to me. Sometimes when I get to Vegas, all I want to do (when I'm not shopping or eating) is sleep. Or lay in bed and watch Ocean's 11 for the billionth time.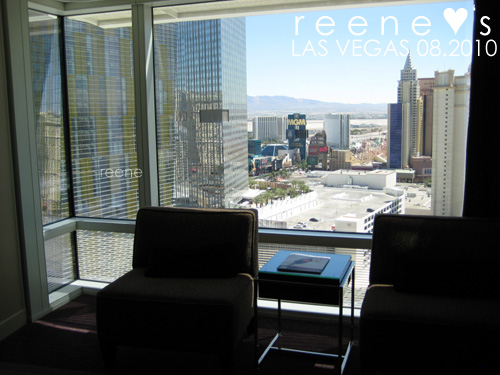 Same view lol.
I usually don't take too many pictures in Vegas since I go so often, but this was the first time I stayed at hotel Aria in City Center so I took a few more this time. I loved it! Almost as much as I love the Palazzo although admittedly I've only stayed at a couple hotels.
Notables about Aria or City Center in general:
1. Rooms are probably standard size for the Strip. Nearly everything can be control by a console next to the bed or by TV remote control. And by nearly everything I mean, the drapes (sheer and dark), individual lights in room and bathroom, whether you want privacy or maid service.. The room is tastefully decorated. Most importantly, the bed is soft, comfortable, and clean! We upgraded to a room with a view, and it was actually pretty nice. Especially at night. The buffet at Aria was actually decent. Don't get me wrong. It's no Wynn or Rio. But we weren't expecting a lot since it was comp'd so we were pleasantly surpised. It was a million times better than MGM Grand Buffet and Paris Buffet.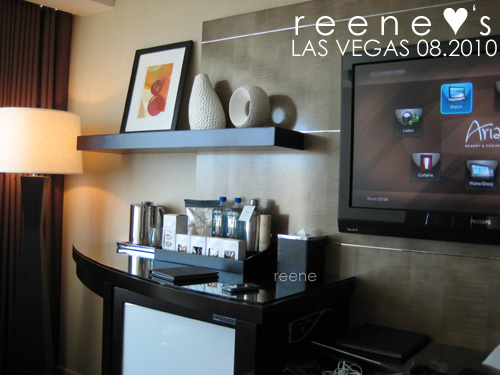 Minibar ($$$)! And notice the menu on the TV screen. That's the same one on the little console by the bed.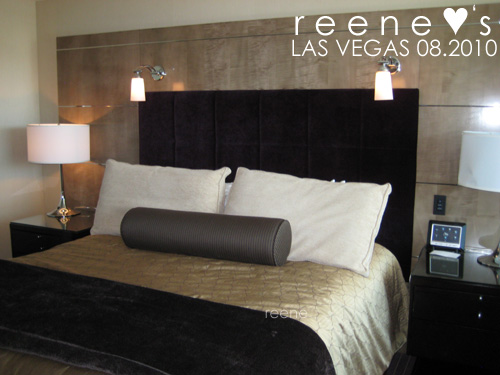 Comfy, comfy. And see the little console?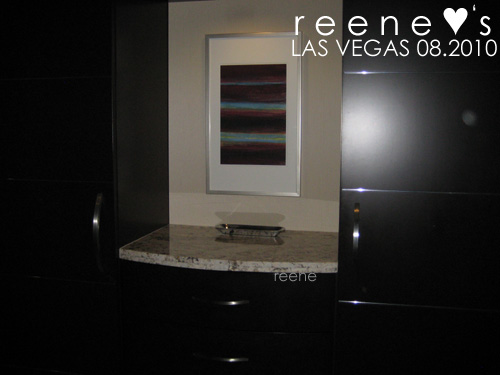 Boring I know, but these are the closests you see as you come in the door. Nice dark woods.
2. The bathroom is a comfortable size. You get a separate enclosed space for the toilet (very much appreciated). There is no separate vanity so I was a little disappointed with that. But OMG the shower/bath.. The shower and bath are enclosed in its own space. Love! The robes they have in the rooms are super soft (like new!) unlike any and all other robes I've had at the Palazzo, Venetian, or MGM Grand Celebrity Spa Suite. Sorry not pictured. I found them in the closet later on hehe.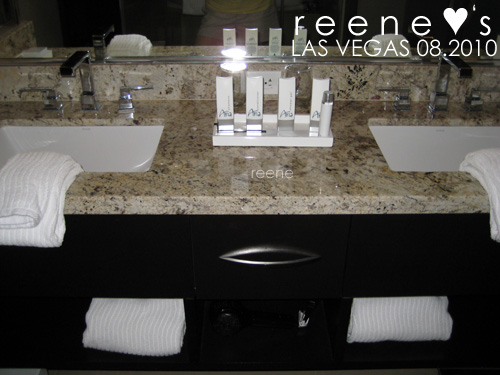 Nice and posh looking, no?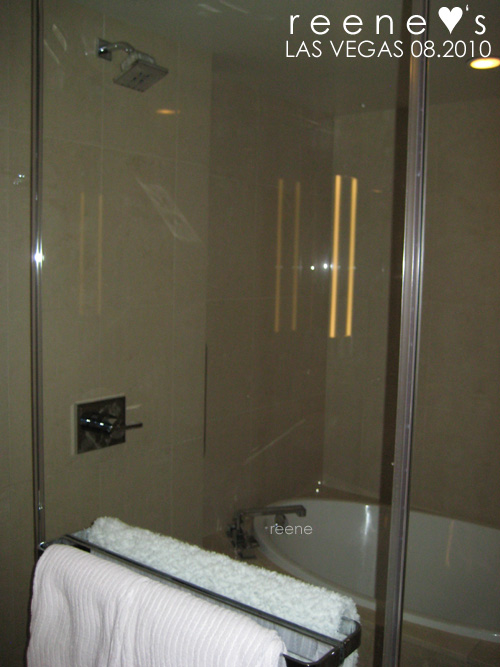 Loved the shower/bath combo.
3. While Aria doesn't have my beloved Thomas Keller restaurant (Bouchon Bistro and Bakery, which I have to go to each time I'm in town. I can't tell you how much I adore that restaurant for breakfast, brunch, dinner, snack, etc), it does have Todd English's restaurants. I've never eaten at his restaurants before so I was excited to see/taste. The Pub was very good. I loved the strawberry beer and duck confit. Besos was also very good. This was the first time I've ever had beef tartare, and it blew my mind. Next time, I'm getting my own tartare. Sorry, BF. No sharing! I also ate at the tapas restaurant Julian Serrano. Pretty good. I like tapas because you feel like you're getting a lot more variety in your meal vs being forced to eat one giant steak. Not there is anything wrong with a giant steak, but variety feels like better value for me. It was like dim sum! Only each plate cost at least $11 instead of $1.. but the portions were decent enough to share at least lol.
4. Crystals is the City Center shopping area (high-end only). The Todd English restaurants were all actually in Crystals, but it's so close it didn't feel like it was separate from Aria. Few names of interest: Tom Ford, Dior, Prada, Fendi, Tiffanys, and Louis Vuitton. BTW this Louis Vuitton spans two stories. It is huge! I dare not go in because I'm afraid I'll actually buy something lol. Next time maybe.. :3 I personally like shopping at the Fashion Show mall more, but Crystals is so pretty to look at. If high-end shopping is not your thing but modern art is, the architecture, decor, and art of City Center in its entirety is completely amazing. I can only imagine what it would be like to live here. Oh wait you CAN live here! If you had the moolah.. lots of moolah.. They have residential suites for purchase at the Mandarin Oriental and Vdara (I'm not sure about Veer Towers). I think right now since the economy is so bad, residency sales have not really moved so they are probably renting out suites or something. They are supposedly just like hotel rooms complete with concierge services and full sized kitchens. Sigh~ Someday.. when I win the lottery haha.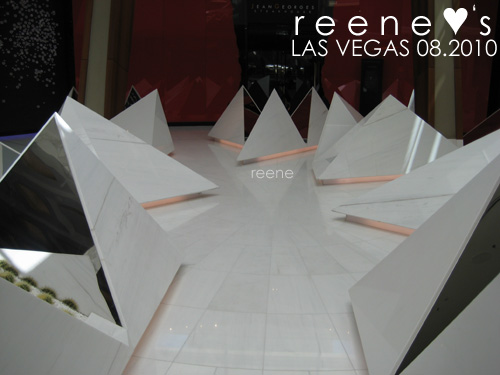 Cool art.. thing at City Center somewhere lol I forgot where. Cute little cacti.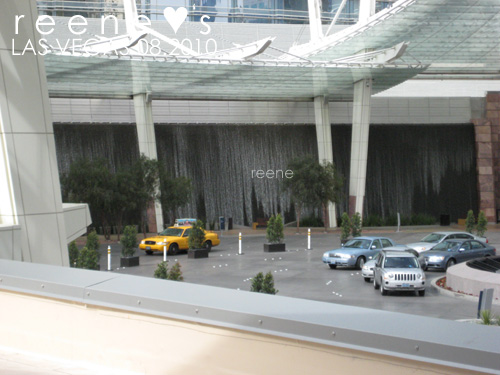 Front entrance to Aria. That is a wall of cascading water.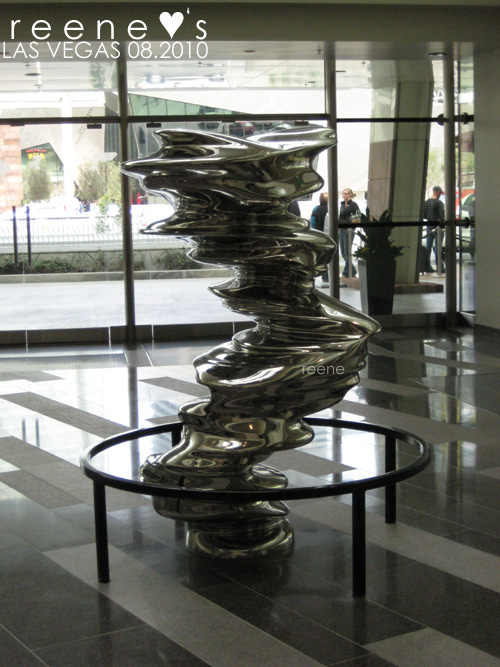 Another cool art thingie. I'm so wonderfully descriptive I know.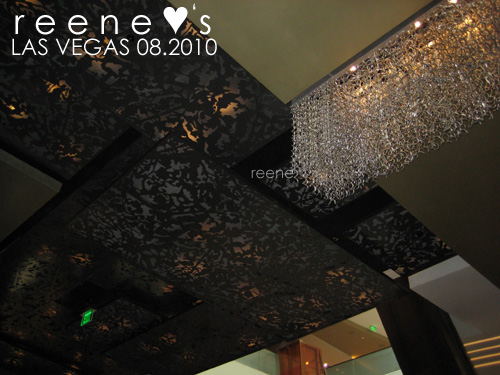 Yes, I'm a nerd. I took a picture of the ceiling at Aria. Isn't that so detailed though? Love.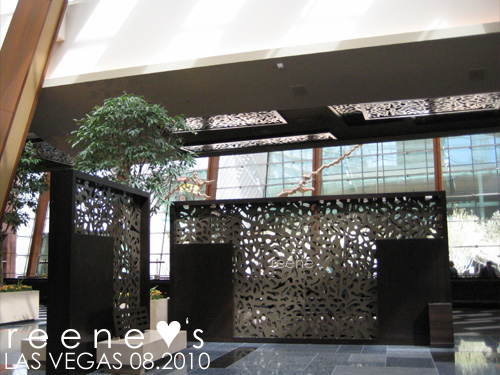 This is the lobby area. There are little benches for people to sit on. There are some lounge/bars nearby as well. I loved how it looked.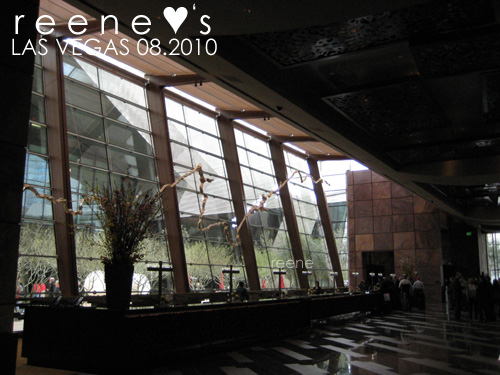 This is the actual lobby where you check in. Gorgeous.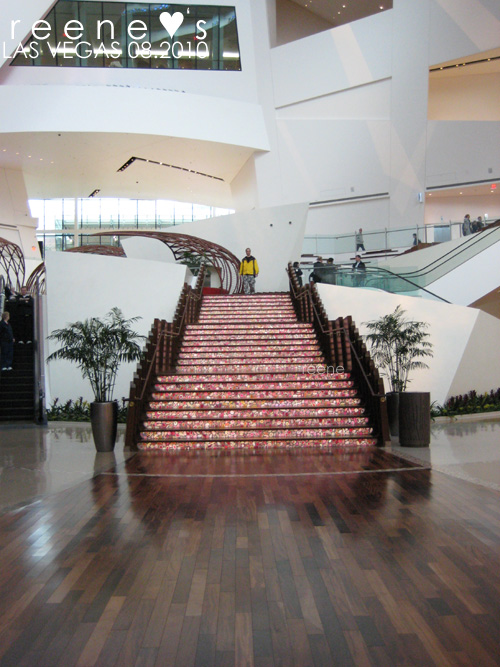 Really cool stairs inside Crystals.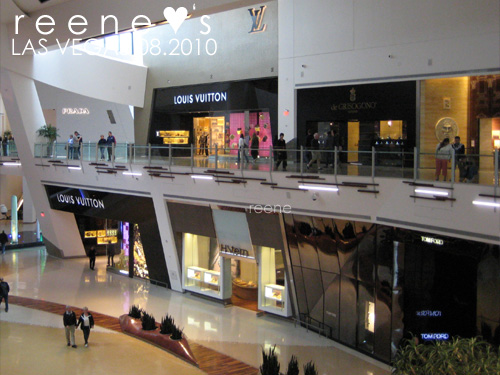 See? Two story Louis Vuitton. I don't know why I'm so impressed lol.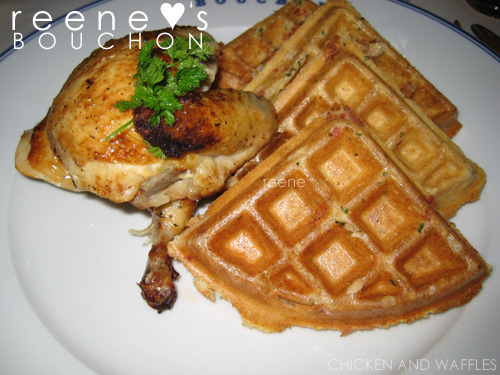 I had Chicken and Waffles @ Bouchon, LV. To. Die. For.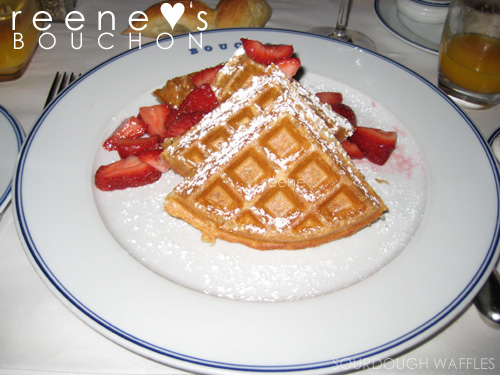 BF had Sourdough Waffles @ Bouchon, LV. Also nom.
So that was my trip. Well, there was more, but I forgot to take pictures of it lol. So I'll leave you with a single haul photo. After I took this picture, I took all of them out of their boxes to save space. Sheesh it's hella bulky.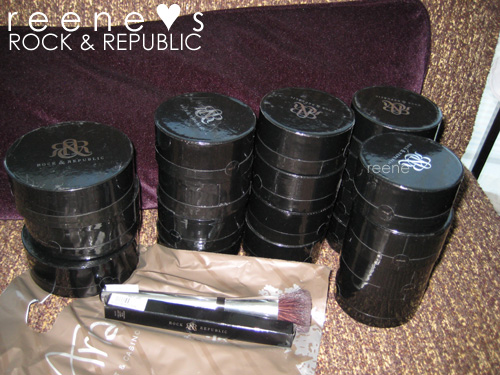 The gift store, Elements, inside Aria had a small Rock & Republic counter. Everything was already marked down and then there was an additional 50% off. Needless to say, I cleaned house. It was too bad there weren't that many blushes left.