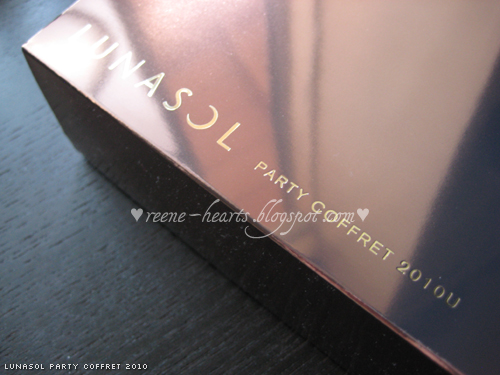 I had this post in the works for a long, long time. Had the photos done and everything months ago! I've been so busy and distracted, but I finally got around to polishing it up. It's only.. four or five months late.. lol. Sorry about that! I had contemplated scrapping this review, but I really liked this coffret so I posted it anyway. 2010's Kanebo Lunasol Party Coffret reaffirmed for me why I was so right to be so enamored with the brand. In my opinion, it blew away 2009's coffret (
see my review here
).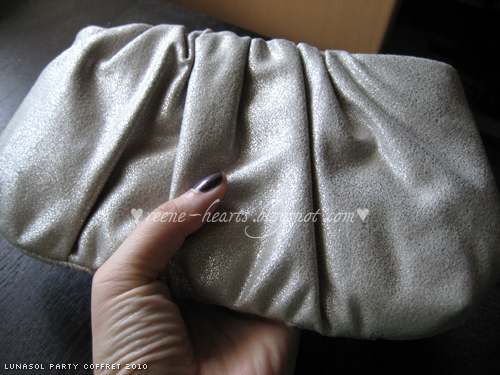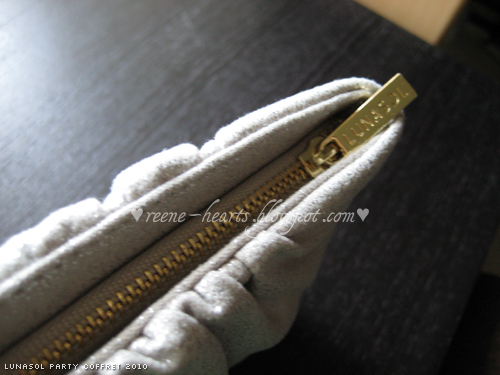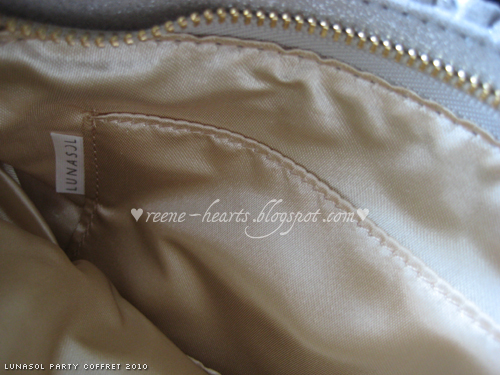 The pouch or clutch the set came with is made of a soft material. The slight ruching detail and soft creamy color with pale gold fleck is really cute. As you can see, there is a little pocket inside and the lining is a soft gold. I think this pouch is much better looking than last year's. I imagine I could actually use it as a clutch if I wanted to.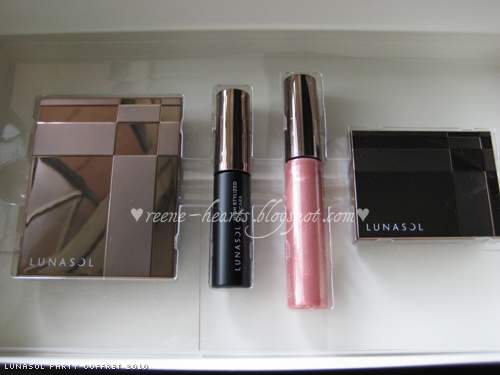 2010 Party Coffret includes a mascara, lip gloss, blush, and an eyeshadow palette. I found everything in this set to be very usable making it a really good value!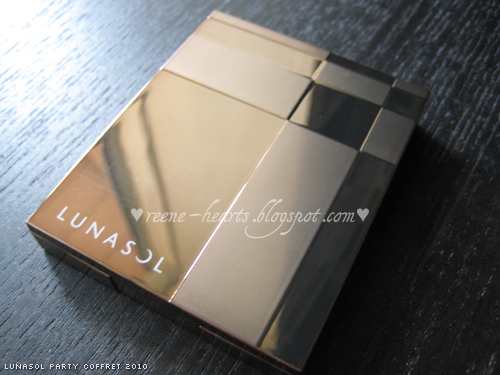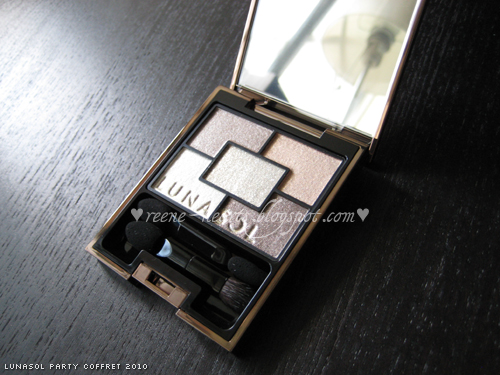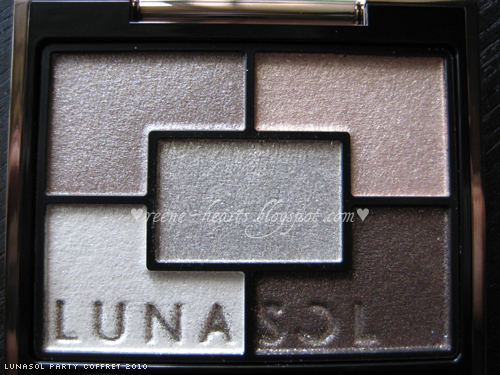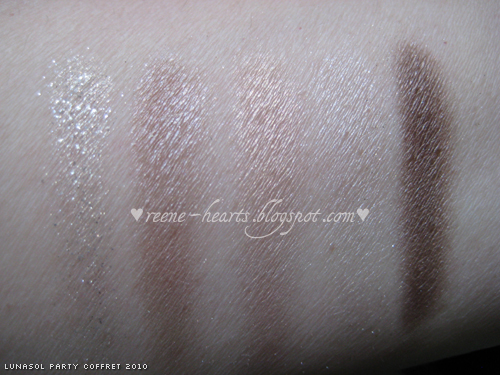 Lunasol Party Eyes 2010 in EX01 Sheer Gold Beige Brown. This palette is unique to this coffret, though you may find this "style" in other color combinations in Lunasol's Aurorized Eyes line.
As always, the star of any Lunasol coffret is the eyeshadow palette. Their eyeshadows are very nice hence their popularity, but they are not the best if what you're looking for is intense pigmentation. From my experience (as limited as it is), Japanese eyeshadows tend to be more subtle. Others may describe them as being sheer. They also tend to be shimmery. This Lunasol palette is no exception, but I find that it's still very wearable. It has nice neutral shades that aren't overly shimmery unless you use that center shade, which is a glitter-bomb. I avoid this one, but the rest are quite lovely! The packaging is the brand's usual copper unlike last year's shimmery white.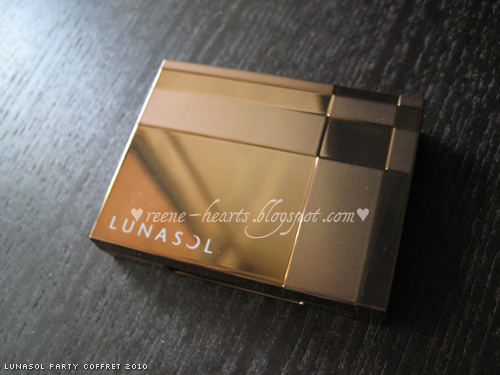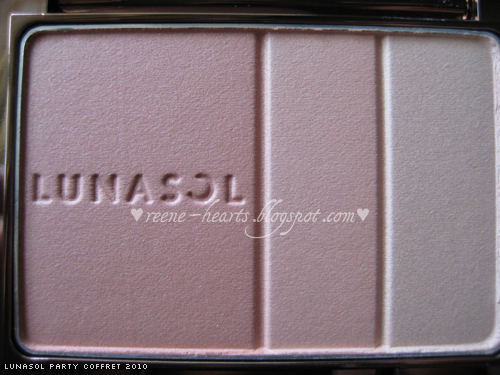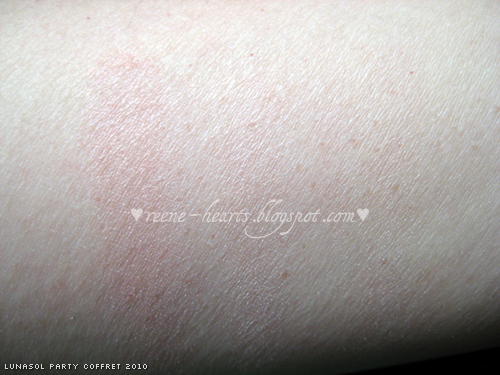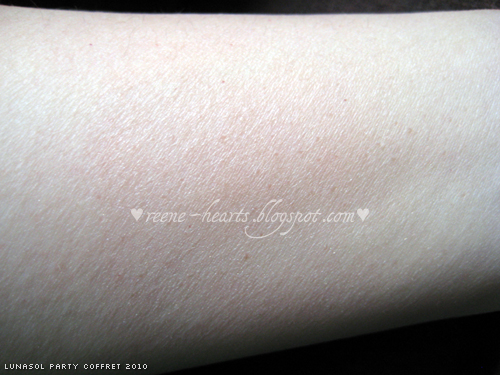 Lunasol Color Cheeks in EX01 Sheer Gold Beige Pink. Sorry about these photos. My light sucked when I took them. So it was hard to make the colors show on camera. I may retake these when I have the time.
The runner-up star of this coffret is the blush. The compact is adorable. I don't have other Lunasol blushes for reference, but I believe it's smaller than the usual blush packaging because they left the brush out. However, the blush pan itself is still full-sized. The blended color is a pretty soft pink with tiny golden shimmers. You can barely see the shimmers on the face, but it gives you a soft glow. For the swatch photos, I swatched each color individually first, then did a blended swatch in the last photo. The pan photo is pretty awful so I apologize for that.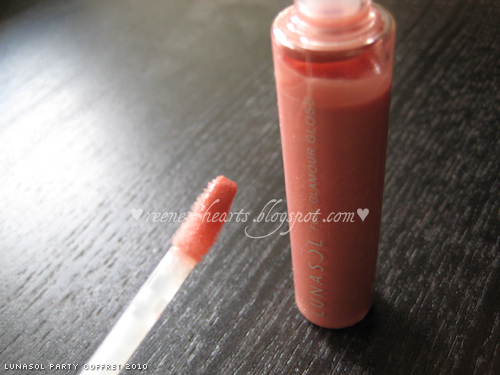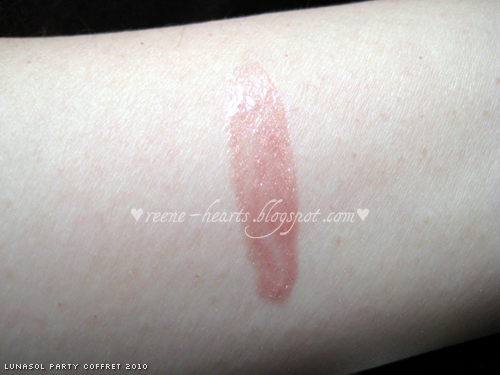 Lunasol Full Glamour Gloss N in EX18 Sheer Gold Beige Pink.
The lip gloss is a nice sheer pink with some fine gold shimmer. It's nothing super special in my opinion, but nonetheless it's a very wearable color. The formula is decent as far as lipglosses go. It's not sticky but doesn't have too much slip. I used to be a lipgloss only girl, but I wear lipsticks almost exclusively now. I'm not certain if this is a full-sized product.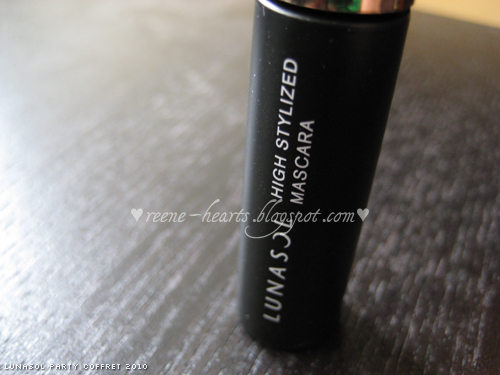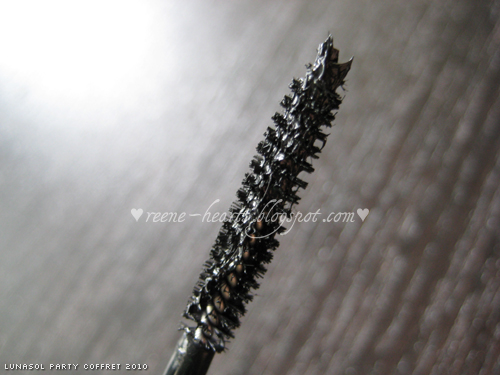 Lunasol High Stylized Mascara N in 01 Clear Black.
I usually go for a very natural look for my lashes so I think this mascara isn't bad. The brush has very short bristles, and the mascara formula has fibers for lengthening although I'm not sure you can see that in the photo above. It hasn't clumped or flaked on me. The only bad thing that I've noticed so far is my lashes droop a little (lose curl) after wearing the mascara for a couple hours.
If you want this coffret, I'm sorry to say that I'm not really sure if it's still available. I got mine from
Imomoko
in December 2010, but they don't list it any more. If you can still find it, I think this would be a very good set to pick up if you're new to Lunasol and is interested in trying it out. It was $106US when I bought it.
Phew. Finally got that done! I have soooo many things I still need to write about and show you guys! I just gotta buckle down and do it. I'm also considering changing the layout/theme of the blog, but.. one thing at a time I guess. :) Enjoy Mother's Day with your families, everyone!