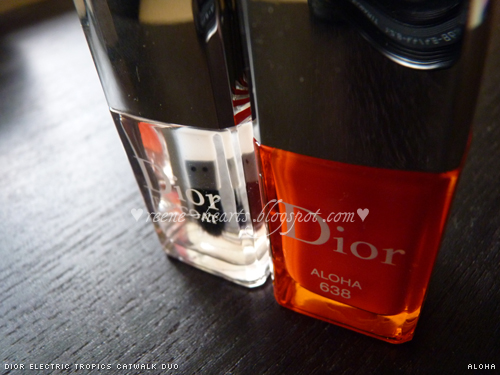 I'm usually a color-safe girl. My wardrobe colors mainly consist of grey, black, white, and cream. In terms of makeup, I get bouts of courage now and then so I have a few more "out there" colors in eyeshadows and nail polishes. "Out there" for me that is. I was ready to pass on the Dior Electric Tropics Catwalk Duo nail polishes when I first saw them popping up on other blogs because I had decided long ago that fluorescent anything was definitely NOT for me. Then out of curiosity, I stopped at a Dior counter at Saks and did a swipe or two on my nails (while the BF grimanced at the colors lol). Needless to say, I went home with Aloha (Paradise was sadly out of stock).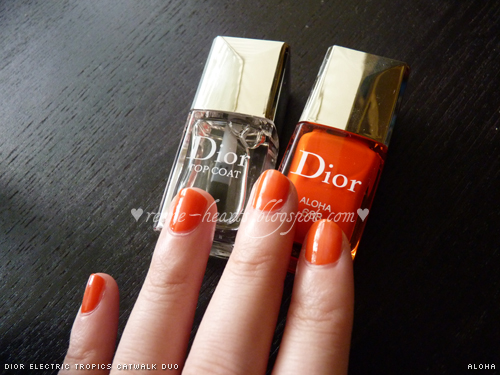 I got home a little earlier than normal today so I rushed to take photos, but I guess I didn't rush enough because my light faded fast. So the color of the polish didn't come out as vibrantly in these photos as I hoped. Pictured is one coat of Aloha and one coat of the Dior Top Coat. The instructions say to use two coats of polish, but I'm too lazy for that lol. Aloha's formula is very good. It applies very smoothly and is decently pigmented. I was surprised at how quickly it dried with the Dior Top Coat. I'm not sure how long-lasting it is. I've only had this polish on for a couple hours and I'm already getting tip-wear. Although, to be fair, I'm rather hard on my nails. It's probably too late to get my hands on Paradise, but if I can find it I'd definitely get that one too!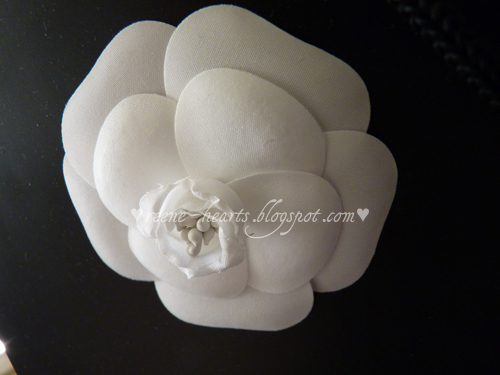 Okay, so.. I'm supposed to be on a makeup-buy-ban. I lasted around maybe two weeks before I caved to get some limited edition items that I knew were going to be gone soon. But here is the reason for my ban..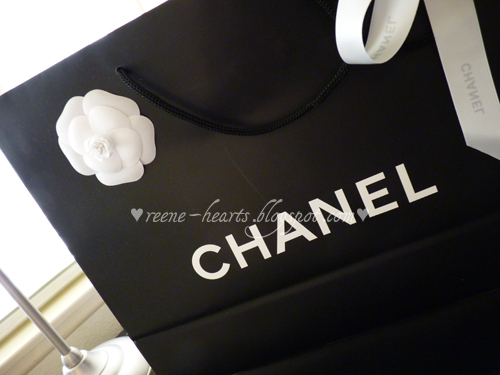 My single most expensive purchase ever..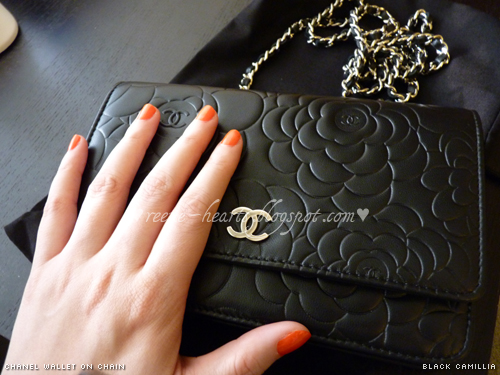 My very first Chanel. I'm terrified because I think I'm addicted.