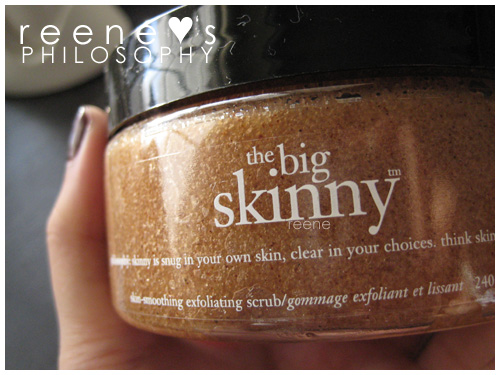 I found the big skinny by chance at a Nordstrom. The philosophy SA was trying very hard to sell me something (anything) after I learned that they were sold out of a body lotion I was hurting for. I was trying to thank the SA and then move quietly on to the next counter of interest. Lady was persistent, but was getting nothing from me.. until she uncapped the jar of The Big Skinny scrub and held it up to my face. "Smell THIS!!" /swoon. Bravo, SA lady. Bravo. It smelled like a nutty cocoa. Even after I bought this I kept coming back to smell it LOL (I know I'm batshit crazy). I love how it smells, and because I'm such a terrible writer I can't begin to describe the scent. So go to your local philosophy counter and get a whiff. If you love chocolate, you will ♥ this. Ya rly. The scrub got me just by scent alone. I didn't test it at all before I bought it. After I brought it home though, I didn't open it for months. I just never got around to it I guess, but when I finally decided to open it.. BAM the smell hit me and I fell in love all over again.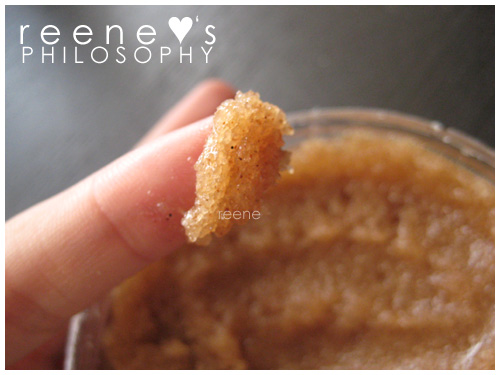 One thing I noticed about this scrub (aside from the fantastic smell) is that it isn't overly oily. Most other scrubs I've tried have a lot of oil. The salt/sugar settles in the bottom of the jar, leaving a big layer of oil on top, and you have to mix up the jar before using. This scrub has so little oil that you really don't have to mix at all. I just scoop out a bit from the top and apply (I use sparingly to make it last longer, but I don't think you really need a lot of product per area to get results). I would not advise using it on dry skin; it will be hard to spread around due to the lower amount of oil and will feel overly rough on your skin. Use it on wet skin (like the instructions say) and you will have a much easier time.. unlike me. >> (FAIL) It made my skin feel soft and smooth, and smell delicious (scent will fade after a short time though).
the big skinny is $20 for 8.5oz of product, which is a bit expensive since philosophy has other scrubs (amazing grace or pure grace hot salt scrub, coconut frosting salt scrub, I think there is a gingerbread one that's available during winter, perhaps others as well) that are $25 for a whopping 23oz! I have not tried those other scrubs at all so based on price alone, I'd say the big skinny is not worth it. But I personally love chocolate, so unless those other scrubs knock my socks off, I'll probably re-purchase this one.
I purchased mine in-store at a Nordstrom philosophy counter, so I'm guessing most of those carry it. You can also buy it online direct from
philosophy.com
or
Nordstrom.com
.