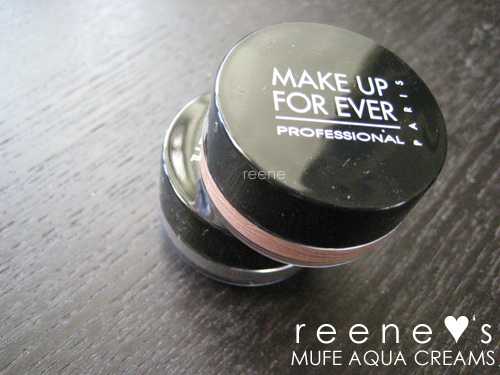 Most days when I wake up in the morning for work, I'm bum-rushing to get out of the house. So I don't have a lot of time to do much makeup. If I bothered with eye makeup, I come back home from work looking like I was auditioning to be a vampire for Twilight (more hot mess than hot immortal). My eye shadows crease, and they transfer to my under-eye area. Then again, I'm out of the house for 12+ hours every day, so it's no wonder that even with UDPP, shadows crease on me (having the most oily eyelids in the world probably doesn't help.. FML). Most days I don't bother because of this until I discovered MUFE Aqua Creams.
From Sephora.com:
An ultra-pigmented, long-lasting waterproof cream. Aqua Cream combines the highest-quality pigments with mother of pearl particles to give immediate rich color payoff with a luminous finish in just one application. It's long-lasting formulation will not crease or smudge under the most extreme conditions and its creamy and elastic texture allows for easy blending.
My stupid oily eyelids have met their match. They're quick and easy to use even for a n00b like me! When I use Aqua Creams, I get home from work with my lids looking exactly the same as when I put the stuff on in the morning. The texture is like a light creamy mousse that spreads evenly with little effort. Unless I'm out from 5AM until 10PM, once set Aqua Creams don't smudge or budge. They don't set too quickly though, so there's some time to blend out however you want. The creams have some shimmer, but are not nearly as shimmery as say, Jill Stuart Jelly Eye Colors (Those are so pretty, but I have issues with shimmer fallout and creasing). The pigmentation is very good, but to be work appropriate, I use very little for a sheer wash of color on my lids. The pots will probably last me a long time since I use so little at a time. #2 Steel is my favorite color so far.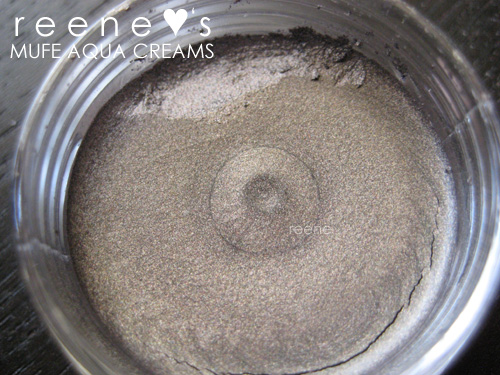 MUFE Aqua Cream #2 Steel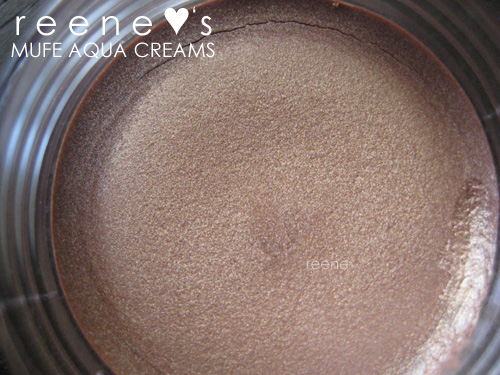 MUFE Aqua Cream #13 Warm Beige
I have a few issues with this product (some of these may just be nitpicking).
Since the product comes in a pot, it's probably best to use with a brush meant for cream shadows. I don't own one yet so I have to use my fingers in to get product (dislike).
I bought #13 Warm Beige with the intention of using it as a cream base for powder shadow. The cream was fine and did not crease, but the powder I applied over it did later in the day. I have not yet tried to blend different Aqua Creams yet, but I'm guessing that would have worked out better.
MUFE claims that some of their Aqua Creams were formulated for lips. Unfortunately, not for my lips. I tested #5 Peach (which is a pretty color that reminds me of Nars Orgasm) in-store, and my lips started to peel. I have not tried them on my cheeks yet, but that would probably work fine.
At $22 each and my rate of use, Aqua Creams are decently priced. The color range is pretty, although I can't see myself pulling off some of them even if applied sheer (I'm much too conservative LOL). I will most likely end up purchasing #15 Taupe and #12 Golden Copper on my next Sephora run. :)
I forgot to take pictures of swatches. I'll try to remember when I take pictures of new ones! :3