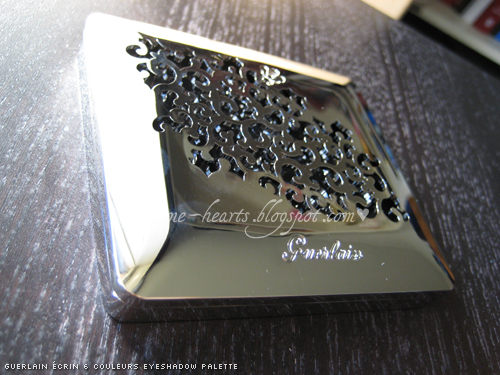 Oohh.. shiny..
I really meant to post my Black Friday haul.. really I did. This overcast killed it (also started raining too). So to hold you over for now, here is a mini-review post. I took the pictures during a crazy photo-shoot session where I had actual sunlight!!.. Doesn't that sound so sad coming from someone who lives in southern California?? Sunshine my ass! >:O Sigh~
I'm sure you've seen these palettes many times already. They're definitely not new any more, but they are so pretty looking. The packaging design is gorgeous! I need to expand my vocabulary because I use "gorgeous" and "pretty" too much lol. Well, you can see for yourself. Really uniquely designed casing.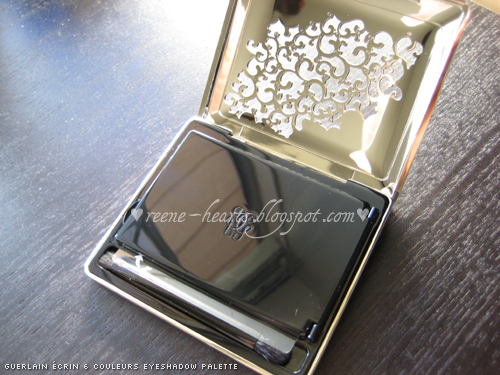 Case detail is so pretty! There is a space for the tiny brush that's included. I can't speak for the quality/usefulness of that brush since I've never used it.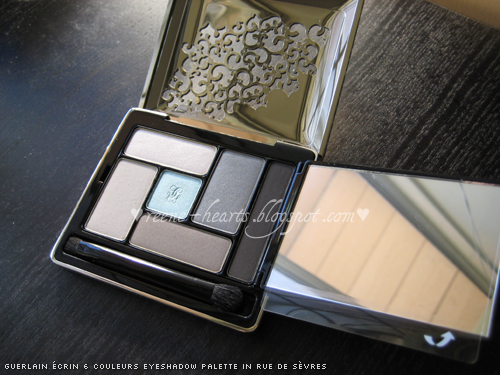 Fully opened case. As you can see, there's a mirror under the cover.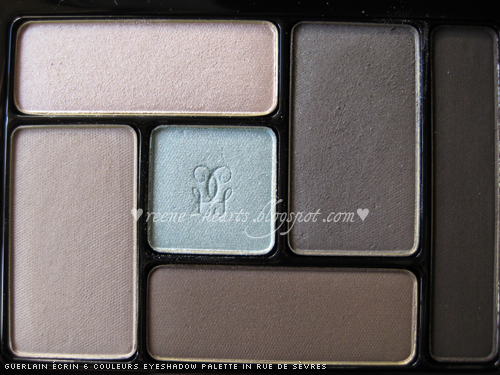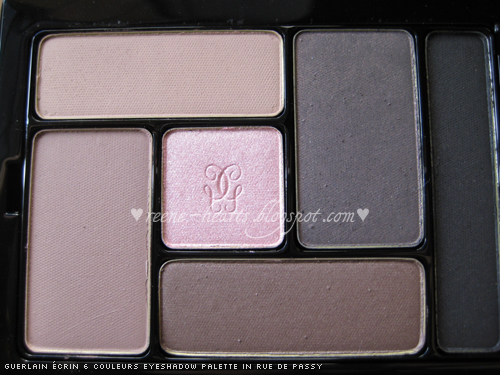 Rue de Sevres and Rue de Passy. Two of five total palettes which are named after Guerlain's boutiques in Paris.
In case you didn't know already, each palette will set you back $84. It's a pretty steep price to pay. So if you're really interested in these still, you should know what you're getting into. These shadows are not super pigmented. For the money, I was expecting nothing short of amazing, but I was rather disappointed. Now, I know you're rolling your eyes at me, "But STUPID, you bought it anyway! You took PHOTOS! EVIDENCE!" Yes, I bought it. In fact, I couldn't help myself and got two of these palettes. One reason why I still plunked down my money is because the packaging is so unique and beautiful. The other is because to make these shadows magically appear all you need is an eyeshadow base, which is basically a requirement for me anyway due to my overly oily lids. The SA at the Guerlain counter swatched these for me using the Guerlain eyeshadow base. They were so pretty swatched that I couldn't say no. I hear that the quality of these palettes don't hold a candle to Guerlain's usual quads, but I can't attest to that since these are my first Guerlain shadows. I think for this price range, they could be a bit smoother and more pigmented. Overall they're okay shadows, and you get six shades to play with for a wide range of looks.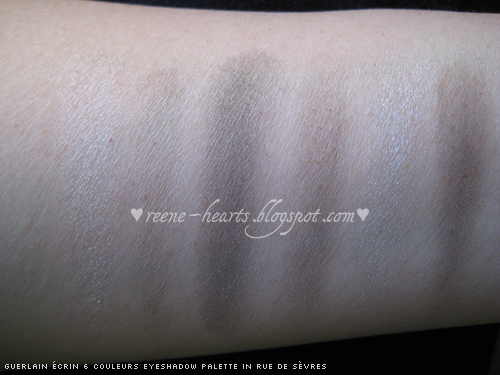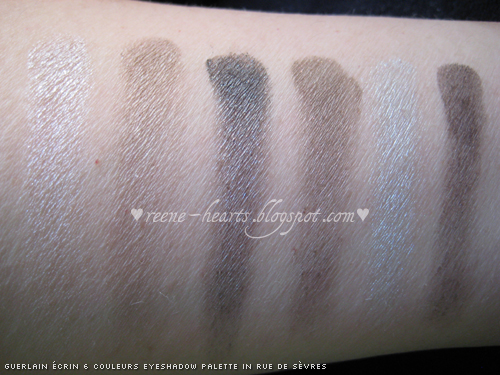 First photo is Rue de Sevres swatched without base. Second photo is the same palette swatched over UDPP. Sorry about the quality of the photos, but you can easily tell that the shadows are much better with a base.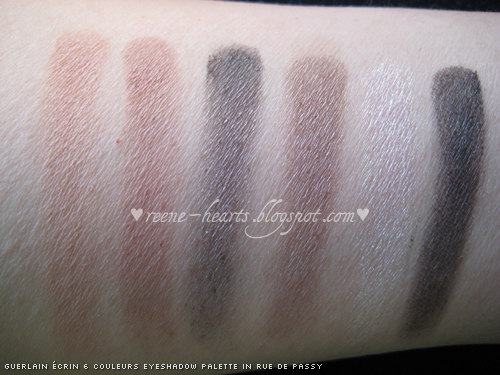 Rue de Passy swatched over UDPP.
I'm pretty sure most Guerlain counters in department stores have these still. Sephora carries these online only. I don't think I will be purchasing any more in this series of palettes. There is going to be a new palette coming out for spring 2011 I think, featuring a popping hot pink as the accent color. Pretty, but not for me. I'm eyeing the other things instead! Hoping my makeup ban will be over then.. >> haha.