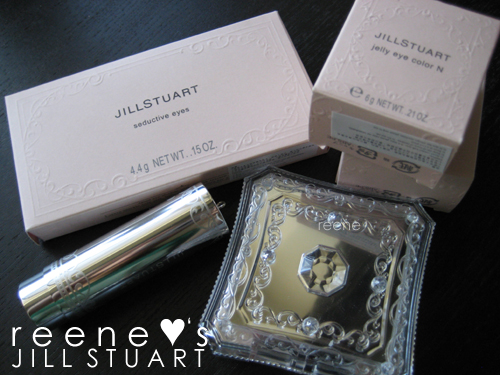 I'm an awful blogger. :( When I have time to blog/take pictures, the weather is crappy and none of the pictures turn out nice. When it's nice out, the BF wants to go out and pouts when I try to blog. Sigh~ So sorry about the delay in posts. Hopefully Jill Stuart can hold you over for now lol. This will be a review on some of her point makeup, which I purchased last year around when I bought the Lunasol 2009 Party Coffret.
Despite being an American designer, Jill Stuart's cosmetics is relatively unknown in the US because it is mainly distributed in only Asia. From last I heard, there is but one US brick and mortar store on the east coast that carries the cosmetics (and not much of it). I personally would LOVE to see JS cosmetics be widely available. I don't quite understand why it's not! If you would like to know a little more background, you can read about it
here at their official site
.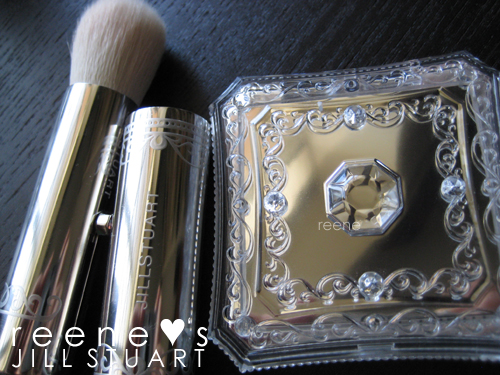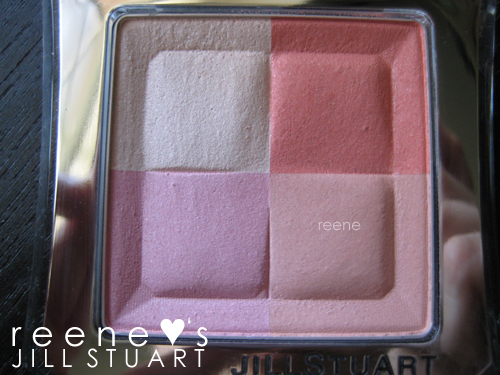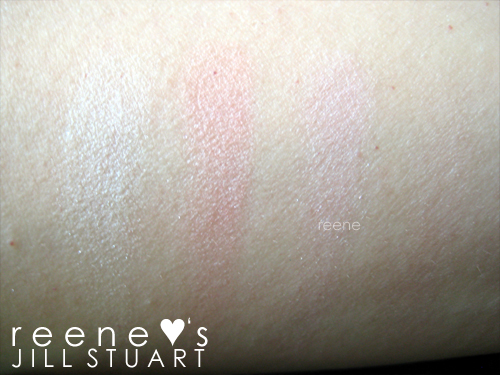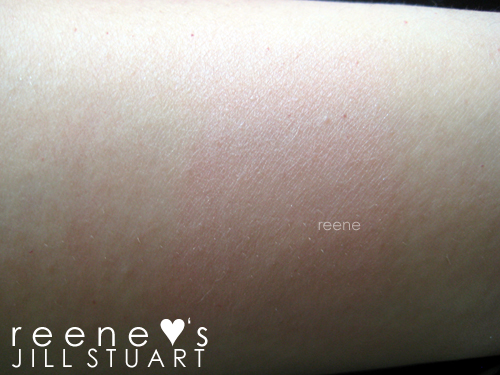 Jill Stuart Mix Blush Compact in 05 Pastel Peach. I swatched each square separately first. In the last photo, I blended the colors together in a heavier swatch.
The Mix Blush is my favorite Jill Stuart product thus far, and it's also one of my favorite blushes overall. From the picture, you can tell that I've used it to the point that the cute flower design in the powder is totally gone. It breaks my heart a little when I do that and makes me wish I got another one so I can admire it whenever I want to too! Okay, that's wasteful lol, but it's so pretty! I'm not sure if I even use this correctly lol. What I do is swirl all the colors together and apply sheerly on my cheeks. I don't find it to be too pigmented, but I like how it gives my face a nice glow. Very smooth texture. There is some shimmer, but nothing crazy or even really noticeable. There is also a slight scent to the powder. Maybe floral/fruity? Can't quite put my finger on it. The Pastel Peach color was limited edition and is likely difficult to track down now, but there are other really cute colors. Each Mix Blush comes with its own small FUNCTIONAL retractable brush! It's attached to the compact itself by a chain, which you can detach too if you desire. Sadly, my chain broke before I got smart enough to detach it lol. But everything is still functional so it's all good.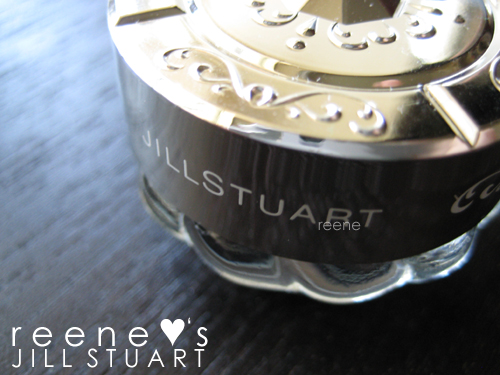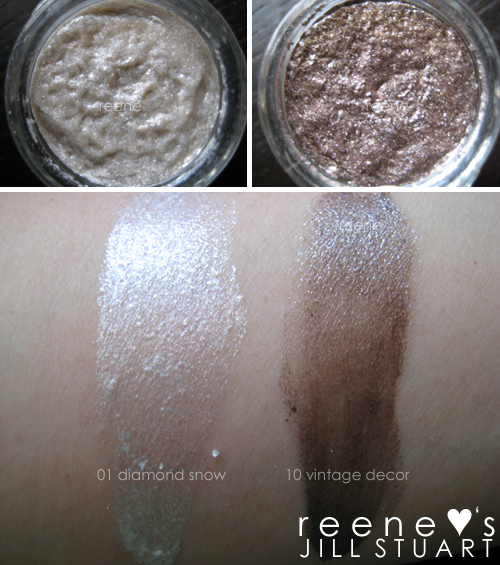 Jill Stuart Jelly Eye Color N in 01 Diamond Snow and 10 Vintage Decor.
My second favorite item are the Jelly Eye Colors. They are really shimmery and sparkly so it's little out of my comfort zone to wear to work.. Well, maybe I'll try it and see if I get too many comments lol. Okay, this is another sign that I'm really easily amused.. The texture of the Jellies are so fun! They really do feel like jellies. The pigmentation is all right. I think what you're drawn to most is the shimmer. These have a much stronger fragrance than the blush did so if you dislike fragrance in your makeup, beware. I really like how these smell, and can sniff them all day lol! My favorite of the two colors I have is Vintage Decor. I don't have the Paul&Joe Eye Gloss in Murmur, but it reminds me of that. I'm thinking of getting Antique Chiffon at some point. Hopefully it will still be around by the time I can lol.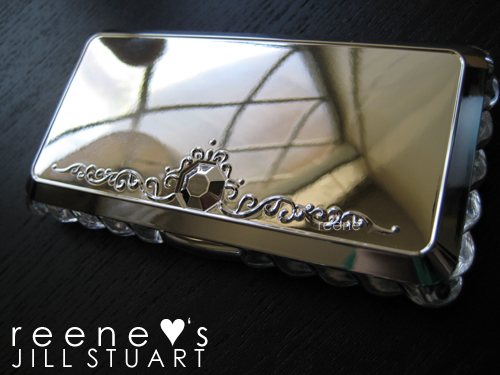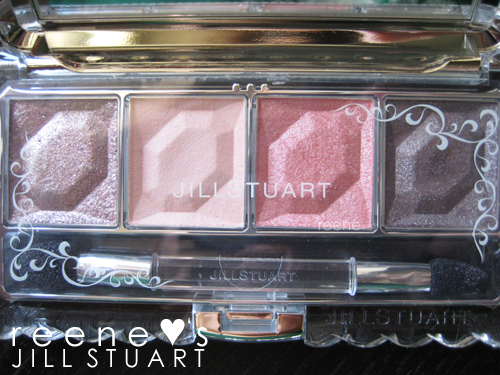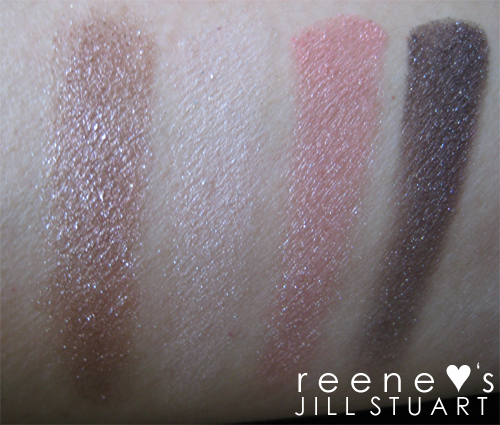 Jill Stuart Seductive Eyes in Mysterious Queen
Last, but not least: Jill Stuart Seductive Eyes in Mysterious Queen. At the time I bought it, Mysterious Queen was new and limited edition. The palette is really gorgeous, but the texture just isn't what I expected. The eyeshadows (minus the highlighter shade, which doesn't seem much more than a lot of shimmer) are surprisingly pigmented and REALLY shimmery. The shadows feel smooth, but there is a lot of shimmer fallout. It gets everywhere and is difficult to completely get rid of. The applicator it comes with is cute, but I don't really like using it. I'm not crazy about using brushes with it because of the texture so I use my fingers. Like the other Jill Stuart products, this also has a fragrance. It's not as strong as the Jelly Eye Color, but a little stronger than that of the blush. Overall, this palette is decent, but all the shimmer drives me nuts. I don't think I will be purchasing another one unless the colors are absolute must-haves or something.
Admittedly the packaging style is not for everyone. It can be overly girlie/princessy. But while it is not my favorite style, I do really like it. Grew on me lol. Like Lunasol, Jill Stuart cosmetics are hard to come by and expensive. But if you're willing to bite the bullet, there are several online stores to choose from. Keep in mind that some of the items I reviewed here were limited edition so if you really want those you might have to venture to eBay or something. Otherwise,
Mihokoshop.com
is an excellent vendor and where I bought my Jill Stuart stuff.