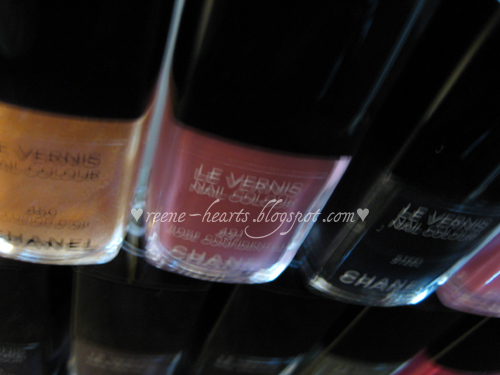 You all must think I haul a lot. Well, truth is.. I kind of do, but not normally a giant haul in one sitting. Just.. a little bit here and there.. every weekend.. haha. I've been so crazy behind in my posts that I'll have to clump hauls together. Like this one!
The last few months were huge nail polish months. I love nail polish, but I had only a meager stash before fall. I think soon I will have to invest in a storage solution for my growing collection. It's not a huge one by any means, but at the rate I'm going.. it will be! Sorry, I think I will save swatching for future review or NOTD posts instead. My nails are not in their best condition at the moment and I don't think they can take doing so many swatches at once (I prefer to do at least an entire hand so you can see the overall look).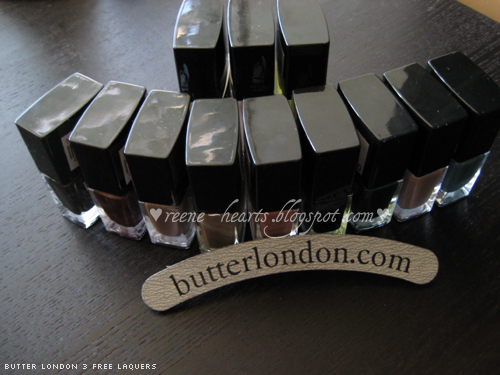 The row in front are the nail polishes (because the photo is so crappy, and I wasn't smart enough to write down which is which in advance, I'm just going to name them in no particular order.. sorry!): Big Smoke, Perfect Prezzie, All Hail McQueen, Fash Pack, Aston, British Racing Green, Branwen's Feather, Yummy Mummy, and Victoriana.
The three in the back are the Matte Finish Topcoat, Nail Foundation Flawless Basecoat, and Handbag Holiday Cuticle Oil.
Butter London is pure love. Application-wise most of the ones I've tried were flawless. I was so ecstatic to find them in a real store so I can play with them! The SA was nice enough to throw in a few generous GWPs. That nail file you see? She gave me like four of them total. I'm set for life! She also gave me the Matte Finish Topcoat and the Nail Foundation Flawless Basecoat. Really sweet lady! I really wanted Bumster, but it didn't really look good on my nails.. :(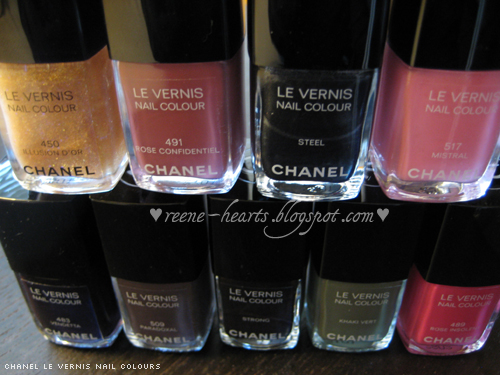 Top left to right: Illusion D'or, Rose Confidentiel, Steel, and Mistral.
Bottom left to right: Vendetta, Paradoxal, Strong, Khaki Vert, and Rose Insolent.
Is it just me, or has Chanel been crazy with limited edition polishes lately? I can barely keep up, physically getting to a store and.. financially. I lucked out like crazy with Illusion D'or, Khaki Vert, and Steel. I missed out on these when they were available online (this was also before I realized that the Soho collection was available at Nordstroms). Apparently someone had them on hold at the Bloomingdales I was at. If you don't pick up the items within the time they're allowed to be held for you, they become free inventory. That person never picked up the items, so the SA had just put the testers for those polishes back out on the counter.. about three minutes before I strolled by and saw them. I have eagle-eyes when it comes to makeup lol. MINE! Mwahahaha.. ahem. :D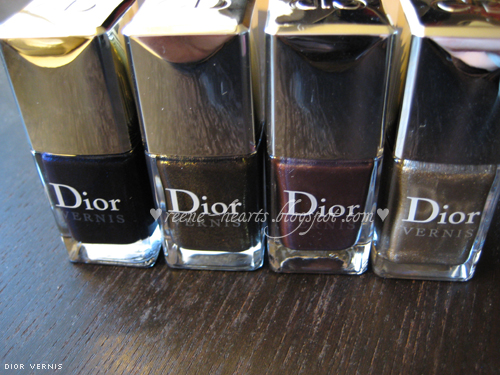 Left to right: Black Ink, Czarina Gold, Aztec Chocolate, and Timeless Gold.


Sorry, that Dior photo sucks ass.. sadly it was the best of the ones I took of these polishes. Ah well! Dior has been crazy like Chanel too! Before, I've always wanted more Dior polishes to be released per collection/season, but this felt kind of crazy. Goes to show, be careful what you wish for! I can't even remember which store I got which at. I think I'm missing one or two too in this picture. Agh my collection is too disorganized right now. Will have to hunt down..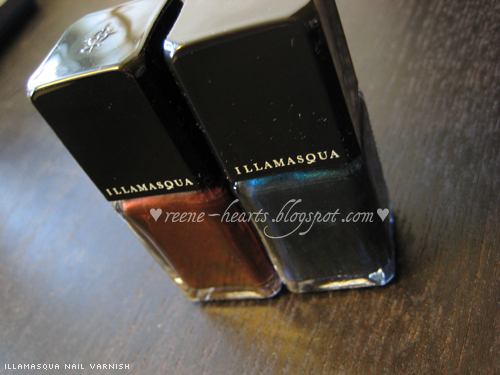 Left to right: Scarab, and Viridian.
Illamasqua was the dark horse for me. The brand itself was never super appealing to me, much in the way that MAC didn't before. Some of it seems very.. stage-makeup-ish? Not that it's a bad thing, just a bit too bold for my taste. I spoke briefly about these polishes in a previous post. The metallic finish polishes are really nice! I wanted to pick up Phallic too during F&F, but it was out of stock online. Speaking of, should I ask why a nail polish named Phallic is.. blue? lol..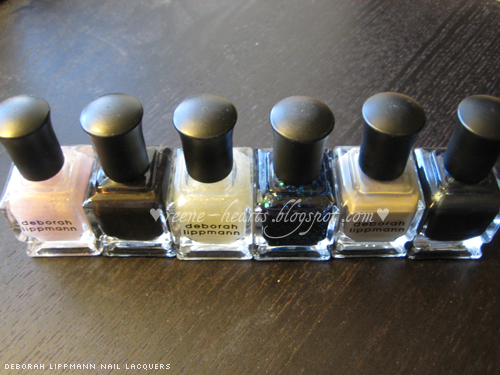 Left to right: Diamonds and Pearls, Pump Up the Jam, Bring On the Bling, Across the Universe, Waking Up in Vegas, and Hit Me With Your Best Shot.


Deborah Lippmann was a brand of polish I should have been aware of, but had no idea existed. Where the hell have I been?? I have to thank
All Laquered Up
for introducing it to me via her Waking Up In Vegas post. The brand features gorgeous colors (with cute names) and amazing application.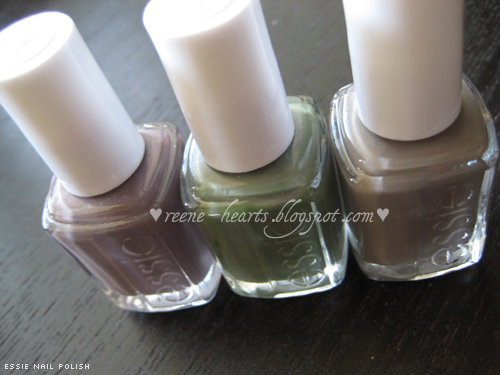 Left to right: Merino Cool, Sew Psyched, and Chinchilly.


I've seen Essie polishes, but just never got around to trying any until now. The polishes are pretty good in terms of application, although is it just me or do they separate in the bottle easier/faster than others? It's not a big deal at all, but that makes the Essie polishes my least favorite of the lot.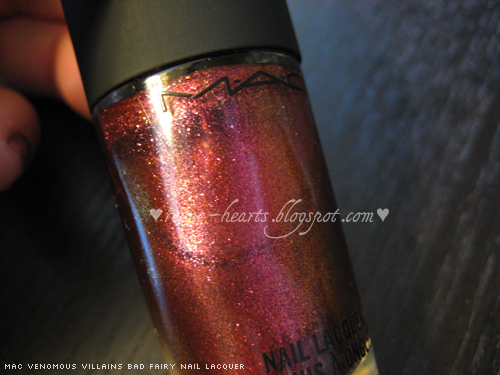 MAC Venomous Villains Bad Fairy.


Ah, Bad Fairy.. this polish was hard to track down. It was sold out in stores the day it was released. I was laughed at for even asking at some stores. My coworker, who is new to MAC, wanted Bad Fairy too. In fact, almost everything she wanted in the store that day was sold out! I felt bad so I decided then that if I could track down Bad Fairy that I'd give it to her as a gift. Thankfully
Steph of DSK
(check out her jewelry! Her pieces always have me drooling) came to my rescue! My coworker thought I wanted it for myself. LOL so she asked her sister in NJ to look for it too, and.. she found it! In fact, she found EIGHT of them. Weeks after selling out everywhere else. EIGHT. Sigh~ Anyway, she came to work the next day really excited to tell me that she found Bad Fairy for me. In the end, we just kept our own lol. ♥ you, S!
Maybe you noticed that I changed my watermarking? I haven't been a victim yet of picture-jacking (who would jack these anyway?!!? Crazy..), just thought I'd try out a better way to protect the photos. Also, I thought it would be misleading if I used the same old "reene ♥'s ______ " watermark when I eventually get to a brand/product that I really didn't like..
Please excuse my image host server.. they like to run maintenance whenever I hit publish apparently.