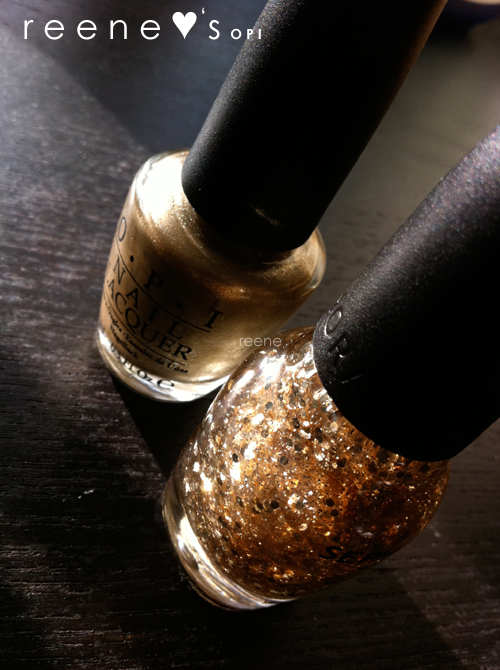 The picture above turned out kinda cool.. or maybe I'm just easily amused. Ya, that sounds about right. These polishes are not cutting news any longer in the beauty blogging world, but eh why not share anyway?! This is a teeny-tiny mini post. :)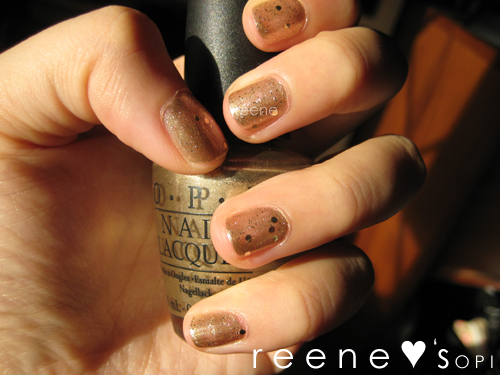 As you probably know already, Glitzerland came out as part of OPI's Swiss Collection for this fall season. I went to many stores looking for it, but since it had just come out it was sold out everywhere. When I finally found it, I saw it everywhere. Sigh~.. Sephora by OPI's Only Gold For Me came out earlier this year (maybe April/May~?). I had similar issues tracking this one down. I gave up eventually and just bought it online, then every Sephora I went to had boatloads of it in stock! Wildly unlucky perhaps??
Glitzerland is a really nice gold. It's more of a champagne-toned gold rather than a yellow gold. I think I only used one coat of it here. Then I did one pass over with Only Gold For Me. As you can see, it's a clear top coat with large hexagonal shaped gold glitter along with much smaller gold glitters. It's really gorgeous, but I'm really terrible at using it. I tried not to glop it on, but the big glitter wouldn't go where I wanted. But if I glop it on, it will look.. gloppy lol. So that's why there are so few large glitters, and they all ended up wherever THEY wanted to be. Ah well, it's not the most exciting mani ever, but I like this combo.