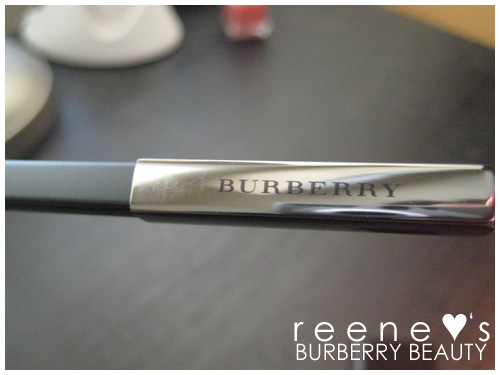 Long post inc!
A couple nights ago, I was aimlessly surfing the web. I don't normally look through department store beauty sections, so I'm not sure what exactly possessed me to look through Nordstrom's. I almost fell off my bed when I saw Burberry Beauty. Are you kidding me?! First of all.. where have I been that I had no idea?!!? Secondly.. Don't I have enough brands to follow/covet/throw my money at?? The next day at work, I excitedly gushed the news to my neighboring coworker, who groaned because she's probably sick of hearing about cosmetics from me now. She's the only one nice enough to listen to me though haha. Well, I figured it would be a while before I can get my ass to a store, so I had decided that I was going to let this go for now.. I'll just wait until someone else in the beauty blogging world takes a look at it..
Then came the weekend. The BF and I were trying to decide on a place to go spend the day. I know myself and how weak my will-power is. I told him to decide for us, but if we go to South Coast Plaza, I will most likely cave and buy Burberry makeup (I did some research earlier and found out they were the only ones near me that carried it). I was depending on him to help me steer clear of that landmine. Well, BF must have figured out that I really wanted it, so he drove us straight into it instead. (Have I told you how much I love you, Hun?)
I wasn't comfortable taking paparazzi shots of the Burberry counter, so I'm sorry you'll just have to go see it for yourself (hopefully you're lucky enough to live close to one of the five.. count 'em.. FIVE stores in the US that are selling Burberry Beauty products..). I thought I would have to fight through a throng of Californian beauty-bloggers and other makeup fanatics for a few color swatches, but I was suprised at how quiet the counter was. I only had a chance to glance at the beautiful and clean display for a minute before a sales associate convinced me that I need some pampering, so I'm whisked into a chair while a makeup artist asks me for my color and texture preferences.
As he's applying powders to my face, the first thing I notice is how soft everything feels. The face powder, blush, and shadows all seem to be finely milled and extremely soft. Not only that, the Burberry brushes are also crazy soft. When I inquired about them, the makeup artist says he believes they're the same brushes Burberry uses for their fashion shows. They are not yet available for purchase, but most likely will be soon (maybe a few months.. doh). So the verdict? I think I'm in love.. The makeup artist gave me the classic Burberry model look (well as much as he could manage haha.. sadly, I'm not model material) and I loved it!!
The colors are so beautiful. The packaging is gorgeous (reminds me of Lunasol's). And even the eyeshadows come with a velvet sleeve! The sleeves themselves are adorable because they're debossed with the Burberry check pattern. Come to think of it, almost everything has the check debossing. Even the lipsticks! I love that kind of attention to detail (I'm such a total sucker for marketing and packaging.. sigh~). I thought I noticed a light scent from the powders as he applied them, but I'm not sure. I kind of thought sniffing the displays would look weird so.. sorry, folks haha.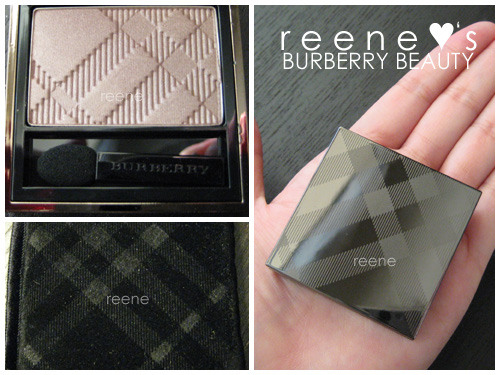 Burberry Sheer Eyeshadow: 29 USD
. The eyeshadows are sheer (on me, but I'm usually rather conservative in application to begin with) and did I mention amazingly soft?? It's buildable if you really want more color payoff. Some of them have tiny shimmers, which are tasteful and won't make you look like a disco-ball. The color range is very soft, sophisticated, and elegant. This is not the line to get if you're after bright colors like magenta or teal. Everything is very natural and neutral: lovely for everyday use. I only wish that they had quads or duos.. not just the single shadows (feels like more bang for the buck). I got only one of the colors the makeup artist used on my demo (#09 Rosewood), but I have the feeling I will be back for many, many more..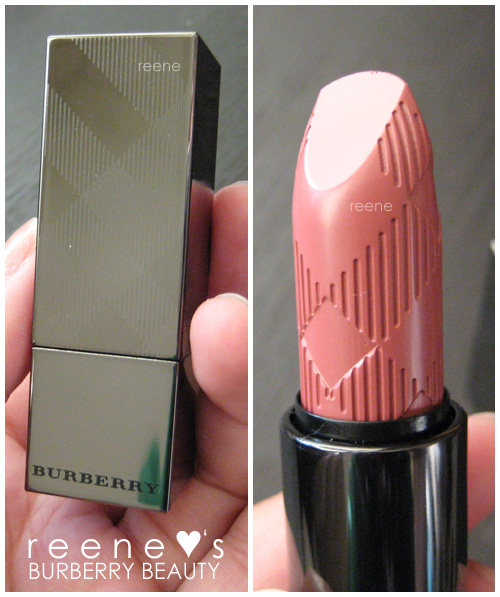 Burberry Lip Cover Soft Satin Lipstick: 30 USD
. The lipsticks have a great texture. The formula feels creamy, moisturizing, has decent coverage/color payoff, and applies like a dream. The available colors look very natural (well, most of them until you get to the classic reds). The makeup artist used #10 Dusty Rose for my demo, I bought #11 Antique Rose instead. Knowing myself, I will most likely go back for the rest of the pink shades in the near future. The lipstick cap closes magnetically, which is very cool.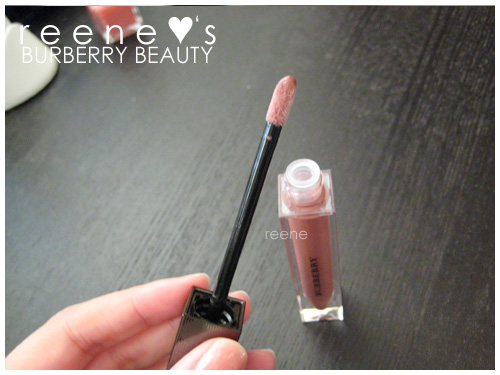 Burberry Lip Glow Natural Lip Gloss: 27 USD
. The lip glosses are very nice. The formula is not sticky and provide a sheer wash of color and shine. The range of color is similar to that of the lipsticks. BF insisted that I get #2 Heather, which is what the makeup artist used on me (and since when did the BF ever care enough to INSIST I spend money on makeup?? world first.. haha)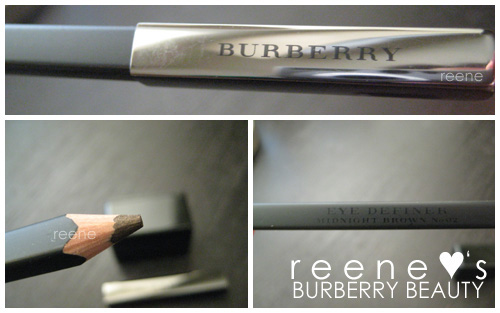 Burberry Eye Definer Eye Shaping Pencil: 27 USD
. I also bought an eyeliner pencil in #2 Midnight Brown, but it was not used in my demo so I don't know how good this one will be in use (he used eyeshadow as liner instead and smoked it out a little). The texture felt creamy on the back of my hand. What I did like was that it had some shimmers in it that gave it some dimension. I loved the plum as well. The SA assured me that the liners had amazing staying power.. we'll see if they can stand up to my eyes then.. the most oily eyelids in the world! The eyeliners come with a sharpener.
I didn't purchase the other products, although I really wanted to. The powder foundation felt very soft. I think I would have preferred a shade lighter than the one he picked for me (damn summer sun managed to tan me). The blushers appeared a little too bright for me in the pan, but look lovely on the face. The mascara formula didn't seem bad, but I resisted since I have so many. I didn't get to try the bronzer or the liquid foundation. Maybe next time! :)
If you're a fan of neutral colors, sheer/light makeup, luxurious feeling products, or Burberry in general, I think you would love this makeup line. But if you're interested at all, I highly recommend that you go see/touch the products in person if possible. There are swatches of everything online, but we know how wonderfully accurate those can be.. The colors in my photos aren't too accurate to be honest; they came out some what washed out. The pictures of the swatches I did were even worse (that's why I didn't post them.. sorry)! Burberry, in general, is not cheap. The makeup line is likewise not exactly considered affordable, but it's on par with Dior prices (well, maybe a smidge more expensive, but just a smidge!).
Burberry Beauty products are available for purchase from the following Nordstrom locations: Bellevue, San Francisco, Costa Mesa, Chicago, and Garden State Plaza. They are also available online from
Nordstrom
or direct from
Burberry
.
PS. This was a general observation of the product line, not a review! Eventually I will review the products after I get the chance to use them for a while. :)